A Look at House Rules: Pick Ups

Linda Geenen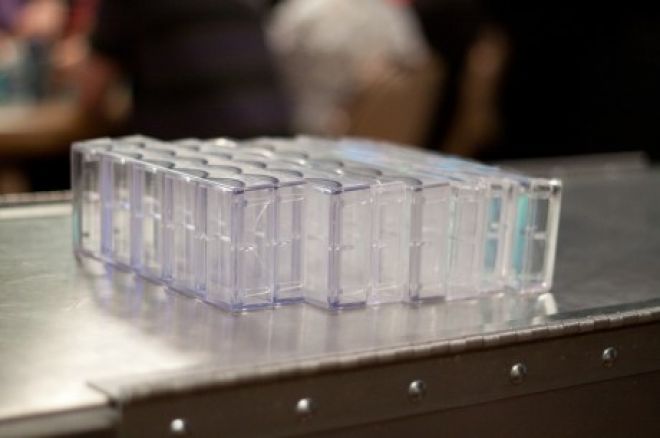 In the last installment of "A Look at House Rules," we talked about "lock ups" and how they could take a lot of the headache out of making sure you got a seat when your name came up on the list, as well as to ensure you got a requested seat change. Today we move on to discuss "pick ups," and no, we aren't talking about the kind you find at the Hooker Bar at the Rio in Las Vegas. Nor do we mean the big wheel 4X rigs that can drive across the Himalayas without using a goat trail or a guide. (Also worth noting, there is a difference between a "pick up" and a "pickup" — Google it if you aren't sure which is which.)
So what are "pick ups" in the context of casino poker rooms and house rules?
You probably will never hear this called out over the public address system in your local poker room: "(Your name), your lock up is a pick up!" But it could happen if you left a lock up and didn't return in time and poker room policy dictated such an announcement.
Here's how a "pick up" works...
A pick up takes place when your chips are out of action for the maximum time period allowed. In "A Look at House Rules: Play Overs and Absent Buttons," we went over the topic of absent buttons. Once you have the required amount of them in front of your chip stack, your chips are in jeopardy of being picked up.
Simply put, the dealer in this situation will call out, "Pick up, Table X!" and the list person will arrive with empty chip trays. Sometimes there will be a document that the dealer must sign as required for security reasons, although in other rooms the process may not be as formal.
The list person will then start stacking your chips into the empty trays, making sure that an accurate count of all cash and chips is made while verifying it with the dealer. Usually the list person will ask the players and the dealer if any of them know or can give a short description of the missing player. Lucky charms, cell phones, car keys, sun glasses, and any other personal items including jackets and backpacks that have been left at the table are taken away along with your chips as part of the package.
Once the pick up at the table is complete, the list person takes the orphaned poker chips and personal items to the cashier's cage. There the chips are counted down again with a cashier, and in most cases the chips are converted to cash and held in an envelope with all the following information written on it: Date, Table #, Seat #, Dealer, Name (if known), and Amount. If there are any personal items, they are listed on the envelope as well.
In the event of a pick up in a very high-limit game, it's sometimes not feasible to convert the chips to cash ("society chips" in are use in these games — i.e. $5K, $25K, etc.), so disregard that part of this walk-through if you happen to be jamming the $2,000/$4,000 mixed game in Bobby's Room at the Bellagio (pictured at left).
In most cases, if you return to the room within a certain amount of time following the pick up, you go first up on the list of the game limit you were playing.
Know that if you leave a lock up with the list person, once the lock up is down on the table, you have a limited time to appear and take your first hand. It's a much shorter window of time than if you had taken a hand. If you miss the window, your lock up is picked up and the cash/chips are taken to the cashier's cage to repeat the same procedure listed above except the list person has your name on the envelope.
Items involved in a pick up are kept in safe keeping until they are claimed. Or until the employees' party kicks off!
Just kidding re: the party. Lock ups never leave the cashier until they are claimed by someone showing proper ID and identifying what is written on the envelope. They may eventually be turned over to security if not claimed within a certain number of days, but even then they can always be claimed by the owner.
In home games lock ups may never come up at all, but the possibility does exist. If pick ups are part of the format allowed in a home game you frequent, knowing your host and other players in the game will help ensure that your chips and cash are waiting when you return if something unforeseen happens. The norm would be that in most home games, players aren't walking and are usually staying in their seats — after all, that's where all the fun is!
Meanwhile, online poker lends its own touch to the idea of a lock up without the involvement of a cash discrepancy or problem. If you put your name on a waiting list, you are instantly notified when a seat opens by the poker software. A pop-up window appears to inform you of the table where your open seat is and how long you have to accept. The great news is that clicking on the pop-up instantly takes you to the table.
If you've been playing in a cash game or accepted a seat open invite, you may be allowed to miss X amount of hands or one round at the table before you are automatically picked up by the software. Your funds are returned to your account and your lucky charms and sun glasses are still going to be sitting right there by your keyboard and mouse.
Next up, we'll consider what it means when players are "playing off" or "dealing off the button."
For all the latest here at Learn.PokerNews, follow us on Twitter @LearnPokerNews!