Critics Less Than Kind to Runner Runner

Martin Harris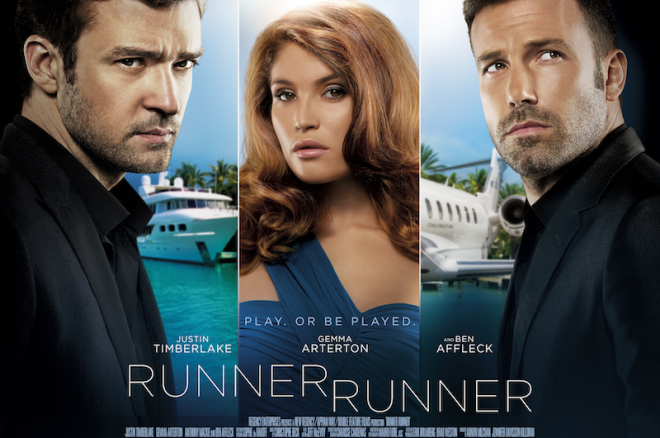 This week saw the premiere of Runner Runner, a new crime thriller starring Ben Affleck and Justin Timberlake, a film that has earned notice in the poker world thanks to a plot involving online poker and the fact that its screenwriters, Brian Koppelman and David Levien, also scripted 1998's Rounders, still a favorite poker film among many.
With the Rounders screenwriters at the helm, a title borrowed from a poker term, and a protagonist, Richie Furst (Timberlake), who is a Princeton student and winning online poker player, hopes were high among some in the poker world for a decent entry into the category of "poker film" to counter some not-so-stellar poker-related titles.
In his review of the film for PokerNews, Chad Holloway notes how in fact poker's role in the overall plot is "quite minimal in the grand scheme of things." Holloway ultimately describes the film as entertaining if "not overly original" and "fairly predictable." See his full review here.
Others haven't been so generous with their reviews of Runner Runner, with the film earning a score of just 8% positive reviews on the Rotten Tomatoes website that collects and compiles critics' evaluations for easy reference.
Most critics agree that poker serves as only an incidental launching point for what becomes a formulaic thriller. In his review for The Chicago Sun-Times, Richard Roeper begins with references to The Cincinnati Kid and Rounders, but then laments that "we don't see a single hand of traditional poker played out" in Runner Runner, a film he ultimately finds a "glossy, light thriller."
Seizing on the film's "deal with the devil" scenario, Adam Mazmanian of The Washington Times calls the film "a farcical reboot of Faust set in the seamy world of offshore online gambling" while noting it "isn't exactly a thinking person's movie." Wesley Morris (Grantland) says "the acting is pretty bad" and "this movie bored me stiff," the latter sentiment echoed by Rene Rodriguez of The Miami Herald who writes "Here is a film in which a man is covered in chicken fat and thrown into a pit of crocodiles, and you still can barely keep your eyes open."
Rafer Guzman (Newsday) focuses on the film's thematic shallowness in his review, noting that it "mostly wants to look timely and seem topical," but "instead, it feels irrelevant." Meanwhile Dan Callahan (writing for the late Roger Ebert's website) describes the film as "the kind of meat-and-potatoes genre picture that might be passable if the people involved in making it had given the same thought and concentration to the development of the plot and the ending as they did to the fairly involving set-up." Indeed, several critics have listed along with Claudia Puig (USA Today) "plot holes the size of a small Caribbean island" among their censures.
Amid the cacophony of criticism come a few voices expressing having found the hour-and-a-half spent with Runner Runner to be passable entertainment, although even those recommendations routinely come with qualifications about other deficits. In other words, if the critics are to be trusted, it doesn't appear Runner Runner has provided much of an addition to the narrow genre of "poker film."
"Be aware, poker fans," says Joe Neumaier of New York Daily News to open his review. "Runner Runner is bluffing.... In terms of catching even a bit of the allure of the game, Rounders is still the movie to beat."
For all the latest here at LearnPoker, follow us on Twitter @LearnPokerNews!