Improve Your Game With the MagicHoldem Personal Poker Coach

PokerNews Staff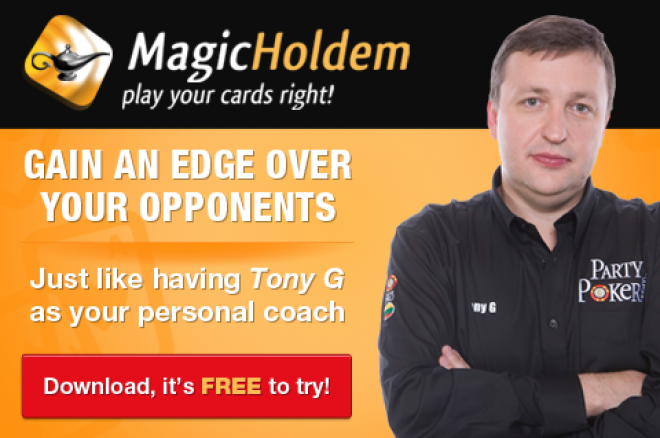 Today PokerNews.com, the world's top poker information source, is proud to announce a new strategic partner in MagicHoldem, a developer of online poker-related educational tools and services and creator of the MagicHoldem Poker Coach.
The MagicHoldem Poker Coach is an innovative all-in-one software package expressly designed to help online poker players develop their skills. Providing players with an array of helpful tools for studying their games, the MagicHoldem Poker Coach includes a live odds calculator and Heads-Up Display (HUD) for use during game play as well as a variety of methods for review and analysis both before and after game play.
Antanas Guoga — a.k.a. Tony G — has collected more than $4.8 million in live tournament winnings. The popular poker pro endorses MagicHoldem as a helpful method for keeping up with the game as it evolves.
"If you're not learning at poker then you're losing," says Guoga. "The MagicHoldem Personal Poker Coach is like having me next to you at the table as you improve your game hand by hand, session by session."
The MagicHoldem Poker Coach concentrates its instruction on three areas for users — Pre-Session, In-Session, and Post-Session.
Pre-Session features include detailed analysis of playing statistics as well as player profiling, while the In-Session features are highlighted by the powerful odds calculator and the especially useful HUD.
The odds calculator displays in real-time players' hand strengths, the outs for improving hands, win odds, and more. The HUD then adds information about opponents' playing styles and notes explaining the significance of each statistic, thus combining with the odds calculator to provide an invaluable online poker product that lets the player locate the optimal strategy for any given situation.
Post-Session features include not just a compilation of stats but a wide analytical tools for understanding the significance of the numbers, including session summaries, analysis of leaks and weak spots, and more.
Jon Squires, CEO of iBus Media Ltd., the parent company of PokerNews, echoed Guoga in expressing excitement about the new partnership.
"Roy and Eran have delivered a great product for those people looking to start their poker career," said Squires. "MagicHoldem is a fun and inventive tool which has the backing of several of the top rooms and we expect our newer players to have some real success with it."
MagicHoldem CEO Eran Loewenstein is likewise elated to be partnering with PokerNews.
"I am tremendously excited to launch MagicHoldem's strategic partnership with PokerNews," said Loewenstein. "Together, we bring to market a comprehensive poker education and training experience, fulfilling a growing need of the online poker ecosystem."
MagicHoldem can be downloaded via PokerNews today. It's free to try and is compatible with most of PokerNews' leading online poker partners.
For all the latest here at Learn.PokerNews, follow us on Twitter @LearnPokerNews! Find us as well on both Facebook and Google+!