Poker in London and Paris, a Fake-Chip Passing Nuke Commander, and UB Doc About to Drop

Michelle Orpe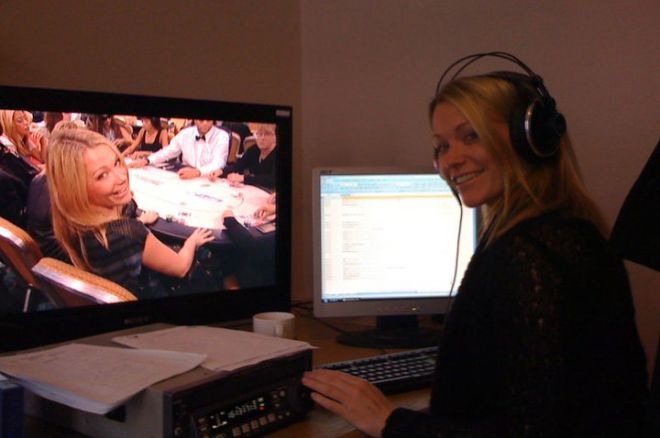 Good morning and welcome to my Breakfast Briefing. A look into this week's poker news brings us results of WSOP and EPT tournaments, what happened to our poker cheating, high-ranking US Navy Vice Admiral, and a soon-to-be-released feature film telling the story of online poker's most notorious cheating scandal.
WSOP Europe Underway in France
So they are a few days into the 2013 WSOP Europe in Paris and at the moment there are still seven glorious gold bracelets up for grabs. Australian player Jackie Glazier has nabbed the first one in the €1,100 Ladies Event while Event #2, the €1,100 No-Limit Hold'em Re-Entry, finishes up today. That leaves six more bracelet events with which you can get involved, if you fancy a trip to the city of love.
The Casino Barrière d'Enghien-les-Bainswith is hosting this seventh WSOP Europe, which started in London in 2007. That was when Harrah's purchased the rights to the WSOP label as well as three London casinos and decided it was time to bring the bling out of Vegas and save us Europeans some air miles.
I was present when Annette Obrestad took home the first European WSOP Main Event bracelet that first year and was the youngest ever player to do so. I would like to say I was the youngest ever presenter to present at a WSOPE, but I would be lying... damn you Gloria Balding!
Stick close to PokerNews for up-to-date results from the felt in "Gay Paree." I guess the silver lining to all those on the rail is they can now go and have a climb of the Eiffel Tower. Which is what Liv Boeree and I did after the European Poker Awards a couple of years ago. It took approximately 257 steps before our hangovers got the better of us.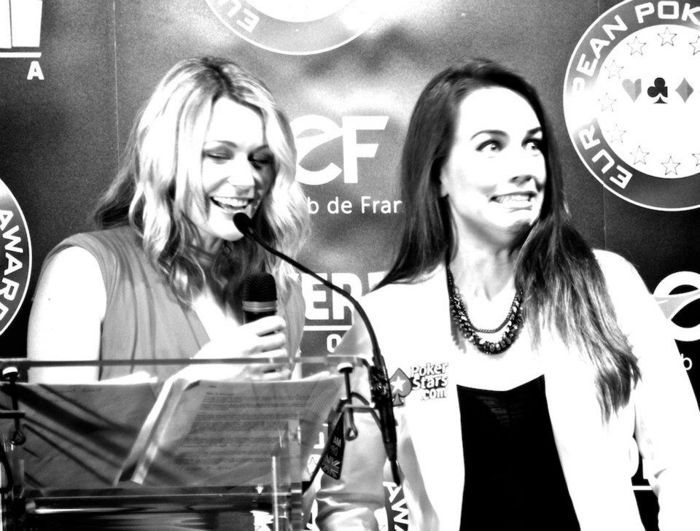 Here I have just suggested to Liv we climb up the Eiffel Tower in torrential rain and -3˚C
EPT London Finds its Heroes
London is always a popular stop for the European Poker Tour and this year the tour's visit has proven to be another success. With 3,877 entrants across 36 tournaments (including the concurrent UKIPT events) and with over £9 million in prize money claimed, there were many happy chappies leaving the Grand Connaught Rooms this week.
The happiest of them all was Robin Ylitalo for taking down the EPT London Main Event and a tidy £560,980, although Jason Lavallee must have been pretty chuffed with his High Roller win for £357,700.
Another recent windfall came to Jeff Gross, but for entirely different reasons. Instead of topping a field of 604 to win over half a million like Ylitalo did, all Gross had to do was get a tattoo to claim a $550,000 bounty. Kristy Arnett caught up with Gross at the London EPT to find out how this crazy bet came about.
Thinking back to the last time I presented the EPT in London, I am remembering getting to play in the Ladies Event. Unfortunately I busted after only two hours and my punishment from my EPT co-workers was to spend all day editing my own rushes: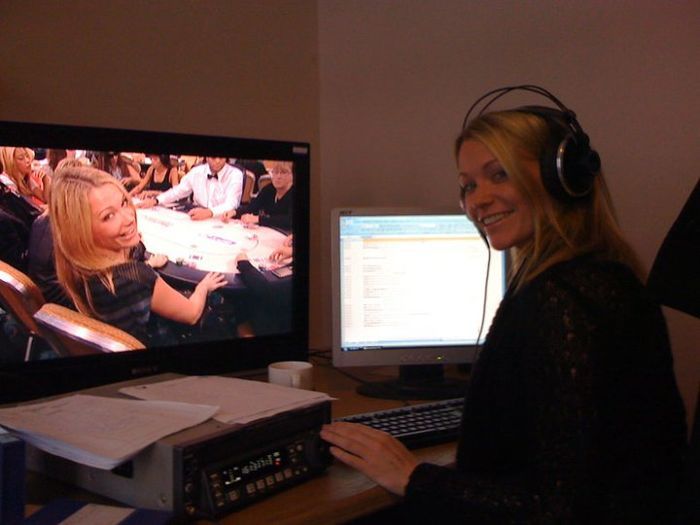 In the EPT London editing suite during EPT 7
Vice Admiral Demoted for Counterfeit scandal
Last week PokerNews reported how a US Navy Vice Admiral, second in charge at the military command overseeing of all the United States' nuclear war-fighting forces, was accused of passing counterfeit chips in a poker game in a Iowa casino.
It seems crazy to me that a man of such standing would take such a risk. Maybe he just felt the need for some extra adrenaline. Maybe there was not enough drama in the nuclear war business for Tim Giardina, who now finds himself relieved of his former duties and demoted. Read the full story here.
Sneak a Peek at the New Pokermentary
UltimateBeat: Too Much To Lose is the full title of a new documentary covering the epic online poker cheating scandal that first hit our news pages in 2007. The film takes a close look at the accusations made against online poker room UltimateBet and takes us on the lengthy journey of justice-seeking that ensued.
After a group of players raised concerns through poker forums, hand histories were analyzed and experts agreed that something was definitely afoot. After careful scrutiny it seemed likely that a player using the alias "POTRIPPER" could see his opponents' hole cards. This was an unthinkable breach of trust to all online players, but unfortunately it was true.
Perhaps against the odds, online poker has survived the UB scandal. Though many believed players would lose faith in online play and withdraw funds, this hasn't happened. On the contrary, online poker has exploded and is more prominent now than ever before. Even though every single one of us has moaned about how online poker must be "fixed" after our aces are cracked by


and our flush is beaten by a two-outer on the river, we always go back for more.
Read more about UltimateBeat here, which becomes available via Video On Demand starting October 22. While we wait, here's the trailer:
That's all for now. I'm off to the Learn.PokerNews strategy section to brush up on my technique in order to be ready for a cheeky home game I have set up next week. Watch this space... the £35 prizepool is mine for the taking! Follow me on Twitter to see if I win @michelleorpe.
For all the latest here at Learn.PokerNews, follow us on Twitter @LearnPokerNews! Find us as well on both Facebook and Google+!