UKIPT London a Hit, a Carnival Coming at PokerStars, and Tony G's New Campaign

Michelle Orpe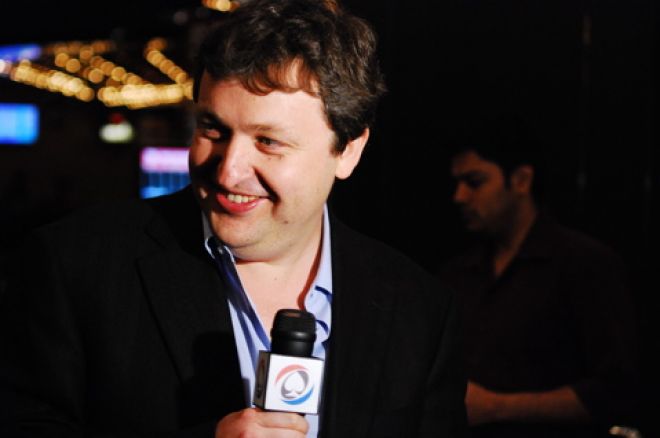 Good day to you all and welcome to my Breakfast Briefing. This week we have news from the UKIPT; PokerStars approaches another huge milestone; Tony G is the man who can; there's news from the EPT, the WPT and the PPC; and some early box office returns from Runner Runner.
UKIPT Enjoys Another Great Turnout
Global online poker giant Pokerstars seems to have the monopoly on large scale, successful poker festivals, with the site catering for versatile players around the world. PokerStars' many tours offer a vast selection of tournaments, spectacular locations, and most importantly large prize pools.
The only problem with this situation is encountered by the grass roots player who doesn't have a spare £5k lying around to enter these tournaments and so has to spend hours grinding online to try and win a seat into one of these prestigious events.
This is where PokerStars' United Kingdom Ireland Poker Tour (UKIPT) got it right. Aimed squarely at mid-stakes players and with affordable buy-ins, this tour appeals to many of the more recreational players in this part of the world. After all, for some stumping up £500-£1000 buy-ins is far more realistic and therefore far less stressful. No remortgage of the house is needed and if all goes wrong it costs you a month's wages instead of a divorce from a very unhappy poker widow.
The UKIPT has been a huge success since its first season and has gone from strength to strength, visiting local English and Irish casinos, with players thoroughly enjoying the local camaraderie that accompanies the tour.
I remember my first UKIPT tournament in Manchester back in 2010. I went out on the dreaded bubble after already having spent my winnings in my head. There were a couple of very valuable lessons learned that day...
Don't let yourself be blinded down to nothing because you're too scared to get your chips in and you're too desperate to make the money.
Don't spend the money in your head before you've got it!
My favorite ever UKIPT had to be the Edinburgh stop of Season 2. I may have busted early, but I got to party the night away with good friends Liv Boeree and Marc Convey.
Drowning our sorrows at the local boozer
The UKIPT is into its fourth season now and continues to thrive. The UKIPT London Main Event came to a head on Sunday with Robbie Bull beating a jumbo jet-sized field to take home a tidy £724,590 first prize. Vanessa Selbst was the other notable winner in London this week as she took down the down the UKIPT High Roller for £67,499.
After reading this you may be wishing you had been a part of it. Well, you're not too late to get in on some UKIPT action, as there are still two stops left from which to choose from at the Isle of Man (Oct. 31-Nov. 4) and at the Dusk Till Dawn in Nottingham (Nov. 27-Dec. 2).
I will be up in Nottingham for the last leg, so come and join me there!
"Carnival of Tournaments" Well Worth a Gamble
I mentioned above what a poker giant PokerStars is within the industry. To add some further perspective to that claim, Stars is about to celebrate its 800th Million tournament next week.
It's difficult to grasp just how many tournaments that is. If each of those tournaments lasted an hour and you played in all of them continuously, you would be roughly 91 million years old. I hope you appreciate my math skill, there. It's probably completely wrong... but you get where I'm going with it.
If you're thinking of getting involved in some online tournaments and are struggling to decide where to play, now might be a good time to visit Pokerstars and enjoy all the added value they are throwing at this milestone, including $2 million in boosted guarantees and $700,000 in added giveaway prizes.
Read here for the lowdown on all of "Carnival of Tournaments" goodies.
Tony G for President; or, If Arnie Can Do It!
Antanas Guoga — thankfully better known as "Tony G" because I never would be able to get his real name right in an interview — is one of poker's greatest ambassadors. Best known in the poker community for establishing this very website, PokerNews, Tony is also a professional poker player, amassing over $4,000,000 in his poker career to date. Additionally he's a generous philanthropist with many charitable donations and ventures, as well as an active businessman and entrepreneur.
But recently Tony has decided to turn his attention and skills toward politics, having announced a plan to run for European Parliament. Born in Lithuania, he is very passionate about the growth of his birth country and he believes he is the right man to help take the country in the positive direction it needs.
Having already contributed to that cause with various projects across the country and winning the Lithuanian Business Lighthouse Award, Tony is most definitely the right man for the job. And as we all know from watching him at the poker table over the years, he certainly has the gift of the gab to handle those tricky political debates.
Read the full story of Tony's political plans here.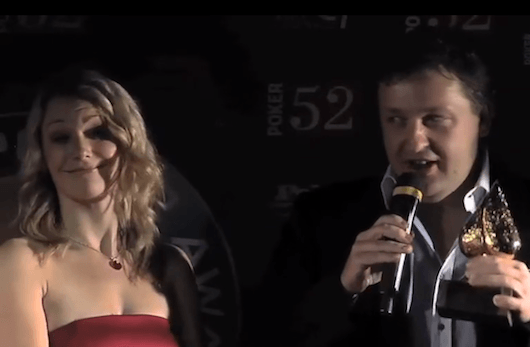 I was honored to present Tony with a very worthy "Personality of the Year" award at the 2010 European Poker Awards at the Aviation Club in Paris. Read what Tony thought of winning that award here.
Tournaments to Keep an Eye on This Week
EPT London is well underway, with the Main Event already having played through Day 2. There were 107 players left to start today's Day 3 out of the 604 total entries. Be sure to follow the live blog on PokerNews for updates all of the way to the finish.
The PPC Aruba World Championship has played through to a completion with Robin Kazemieh of Germany coming away with the victory and a $59,139 following a heads-up deal made with runner-up Joe Ebanks. Read all about it here.
And finally the World Poker Tour has at last announced its schedule for the second half of Season XII, if you want to enjoy world-class experiences at premier venues around the globe. Take a look at this impressive line-up of WPT events to take place during the first half of 2014.
That's it for now. I shall be back next week with more stories from the felt.
Meanwhile, if you're feeling the need for a dose of poker action without the gamble, you might take yourself down the local cinema to see Runner Runner, a drama in which poker figures in the plot. The film took in $31.1 million worldwide during its opening weekend even if the early reviews haven't quite been glowing. Here's a sneak peak: