Final Table Viewing Guide: Ten Questions About the 2013 WSOP "November Nine"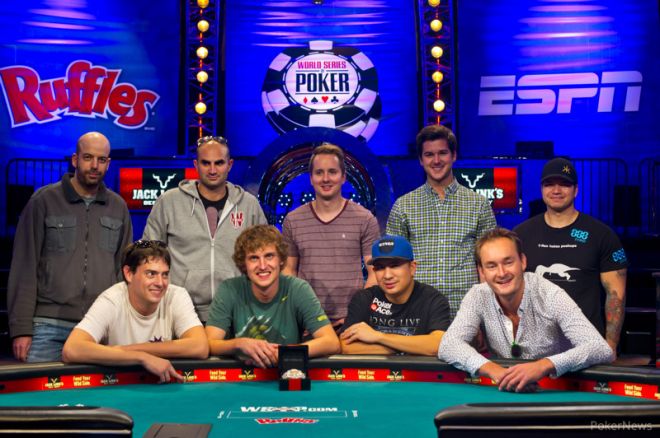 The 2013 World Series of Poker Main Event final table is almost set to get started, and the poker community is beginning to get excited both to follow the coverage and to find out who from this year's "November Nine" will be the next WSOP Main Event champion.
To help set the stage and perhaps offer some clarification regarding what we might expect to see, here's a "Final Table Viewing Guide" for the 2013 WSOP Main Event providing answers to 10 questions about the final table of poker's most prestigious tournament.
1. When and where can I watch?
Play will resume on Monday, November 4 at 4:45 p.m. local time (Pacific Time) in front of a packed house in the Penn & Teller Theater in the Rio All-Suite Hotel and Casino, the same place the WSOP Main Event has concluded every year since 2008. "Virtually live" coverage will begin 15 minutes later on ESPN2 in real time, with all of the action — including every hand — shown on a 15-minute delay.
The schedule calls for play to continue on Monday night until either two or three players remain, depending on how long it takes. The remaining players will then return to continue play on Tuesday, November 5 with the first hand being dealt at 5:45 p.m. PT. Coverage that night will move over to ESPN starting at 6 p.m. PT, again on a 15-minute delay, with the broadcast continuing into the night until a winner is determined.
| Date | Time | Network | Plan for play |
| --- | --- | --- | --- |
| Monday, Nov. 4 | 5 p.m. PT/8 p.m. ET | ESPN2 | 9 players to 2 or 3 |
| Tuesday, Nov. 5 | 6 p.m. PT/9 p.m. ET | ESPN | Until winner |
Those with access to the WatchESPN App will be able to view the coverage that way as well. Also, those outside of the United States will be able to view a delayed live stream of the action on WSOP.com.
While you watch, you can also follow the live reporting over on PokerNews where you'll be able to read reports on the action from every final table hand.
2. Will they show hole cards?
Yes, but only after the conclusion of a hand, and only the hole cards of the players still involved in the hand will be shown. The format allows for viewers to speculate about players' possible holdings as the hand proceeds, then discover right away whether their guesses were correct upon the hands' completion.
3. How long will it take?
While we know precisely when the final table will begin and coverage will start, there's no way to when play will end on either of the two nights.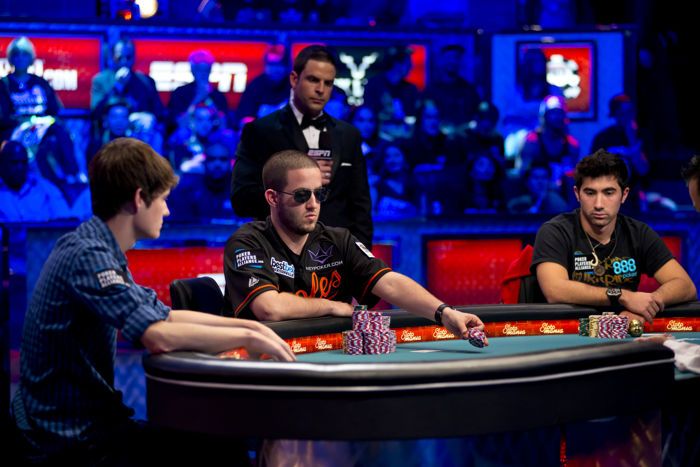 Looking back to last year when the WSOP Main Event final table was played according to a similar schedule with the same comprehensive, start-to-finish coverage on ESPN/ESPN2, the final table turned out to be an especially long one which meant two very late nights for those following the coverage.
On the first night, the final nine players played down until just three were left, taking 135 hands to do so. It was about a half-hour past midnight, Vegas time, when play wrapped up, meaning it had taken around seven-and-a-half hours to play from nine to three.
The second night saw eventual champion Greg Merson, runner-up Jesse Sylvia, and third-place finisher Jake Balsiger return to resume the battle, and it would take a remarkable 264 more hands for the tournament to be decided — about 12 hours! In other words, it was nearly dawn in Vegas when play concluded.
As mentioned, 2012 featured a longer than average final table. For comparison's sake, here's how the final tables have gone since 2008, the first year the "November Nine" format was introduced:
| Year | Winner | Final Table Hands |
| --- | --- | --- |
| 2008 | Peter Eastgate | 274 |
| 2009 | Joe Cada | 364 |
| 2010 | Jonathan Duhamel | 262 |
| 2011 | Pius Heinz | 301 |
| 2012 | Greg Merson | 399 |
It's worth noting that the pace of play at the WSOP Main Event final table is generally much slower than is normally the case through most of the tournament, with the television production crew occasionally needing to introduce unscheduled short breaks along the way. Players also tend to take longer than usual to make decisions at the WSOP Main Event final table — understandable given the high stakes!
4. What are the stakes?
While we're on the topic of those high stakes, here's a look at the schedule of payouts for the final nine:
| Place | Prize |
| --- | --- |
| 1st | $8,361,570 |
| 2nd | $5,174,357 |
| 3rd | $3,727,823 |
| 4th | $2,792,533 |
| 5th | $2,106,893 |
| 6th | $1,601,024 |
| 7th | $1,225,356 |
| 8th | $944,650 |
| 9th | $733,224 |
There were 6,352 entrants in this year's Main Event, with the top 648 finishers making the money. There's still a huge portion of the $59,714,169 prize pool left to be awarded. Adding up the prizes for these last nine spots shows there is still $26,667,430 still up for grabs — more than 44% of the overall prize pool!
5. Is this the biggest poker tournament ever?
Not quite, but it ranks as one of the biggest in terms of its prize pool and first prize. The winner will be claiming the seventh-largest first prize in WSOP Main Event history, with the $12 million that Jamie Gold won in 2006 remaining the biggest ever first prize in the WSOP Main Event. Antonio Esfandiari's win in the $1 million buy-in "Big One for One Drop" event at the 2012 WSOP earned him the largest first prize in poker tournament history of $18,346,673.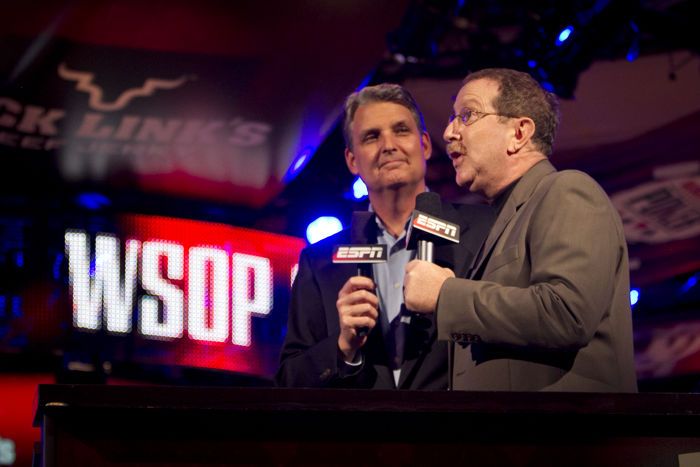 6. What should we expect with regard to commentary and analysis?
Speaking of Esfandiari, he'll be in the broadcast booth along with co-hosts Lon McEachern and Norman Chad to provide commentary throughout the two nights' worth of coverage on ESPN. Kara Scott will additionally be providing some "sideline" coverage including player interviews along the way. And during the breaks between levels, 1989 WSOP Main Event champion and 13-time WSOP bracelet winner Phil Hellmuth will join Marianela Pereyra to offer further commentary as well.
The discussions led by Esfandiari during the hands should be especially interesting to follow for new players, as they'll be focused on analyzing players' decisions and strategy with Esfandiari very likely offering his own guesses as to players' hole cards as the hands proceed.
7. Who's left?
The nine remaining players hail from five different countries, ranging in age from 23 to 38. JC Tran of Sacramento, California comes to the final table with the chip lead and the longest list of tourney triumphs including a couple of WSOP bracelets, 44 cashes overall in the WSOP, and more than $9.5 million in career tournament winnings. That's enough to place Tran just inside the top 25 on the all-time money list, according to Hendon Mob.
Tran will have some tough competition, however, as most of the remaining players have either won or gone deep in big tourneys in the past. Here's how the final nine will be seated around the table on Monday night. (Click the players' names to read full bios of each on PokerNews.)
| Seat | Player | Age | Country | Chips (Place) |
| --- | --- | --- | --- | --- |
| 1 | Sylvain Loosli | 26 | France | 19,600,000 (6th) |
| 2 | Michiel Brummelhuis | 32 | Netherlands | 11,275,000 (7th) |
| 3 | Mark Newhouse | 28 | United States | 7,350,000 (8th) |
| 4 | Ryan Riess | 23 | United States | 25,875,000 (5th) |
| 5 | Amir Lehavot | 38 | Israel | 29,700,000 (2nd) |
| 6 | Marc McLaughlin | 25 | Canada | 26,525,000 (3rd) |
| 7 | JC Tran | 36 | United States | 38,000,000 (1st) |
| 8 | David Benefield | 27 | United States | 6,375,000 (9th) |
| 9 | Jay Farber | 29 | United States | 25,975,000 (4th) |
8. Even last-place has 6.375 million... are they all "deep-stacked"?
An "average" stack when play begins Monday will be almost 21.2 million chips. Play will resume a little over halfway through Level 35, with the blinds being 200,000/400,000 and an ante of 50,000. That means ninth-place David Benefield has a stack of almost 16 big blinds, which is relatively short, especially when compared to Tran who will be starting with a deep stack of 95 big blinds.
Another way of looking at Benefield's "short" stack of 6.375 million is to say that if he were to start out folding every single hand on Monday night, he wouldn't last very long. He actually will be in the big blind on the very first hand of the night on Monday, meaning he'll have to post 400,000 plus that 50,000 ante before he even gets dealt a hand. That means Benefield especially will be a player to focus on when play begins, as he'll likely find it necessary to push all in early in the hopes of doubling up and improving his chip status.
Incidentally, last year the tournament — which featured around the same number of entrants and the exact same structure — ended during Level 42 when the blinds were a huge 1,000,000/2,000,000 with a 300,000 ante. Think about it... players begin the WSOP Main Event with stacks of just 30,000, which means the ante at the end last year was 10 times that!
9. Why do they wait so long — from July to November — to finish?
The idea of a delayed final table for the WSOP Main Event was introduced in 2008 to mixed reaction among players and fans, some of whom thought it resembled playing a football game down to the two-minute warning then stopping for several days or weeks before playing the rest.
But by delaying the final table this way, viewers can watch the weekly coverage of the Main Event on ESPN from late summer right up until the tournament resumes, thereby getting to see the Main Event play out and become familiar with the final nine players before the final table occurs, adding extra interest for the current "virtually live" format used for the final table.
10. Who is going to win?
Who knows? In recent years the sports book at the Rio All-Suite Hotel and Casino has offered odds on the Main Event final tablists, taking bets on players to win. They have done so again this year, and here are the current lines:
| Player | Current Line | Chips (Place) |
| --- | --- | --- |
| JC Tran | 11/5 | 38,000,000 (1st) |
| Amir Lehavot | 3/1 | 29,700,000 (2nd) |
| Ryan Riess | 7/2 | 25,875,000 (5th) |
| Marc McLaughlin | 4/1 | 26,525,000 (3rd) |
| Jay Farber | 5/1 | 25,975,000 (4th) |
| Sylvain Loosli | 11/2 | 19,600,000 (6th) |
| Michiel Brummelhuis | 8/1 | 11,275,000 (7th) |
| David Benefield | 12/1 | 6,375,000 (9th) |
| Mark Newhouse | 15/1 | 7,350,000 (8th) |
Betting on anyone to win would be a gamble, given the role chance necessarily plays in poker tournaments. But many are describing this year's final table as an especially talented one, and so the likelihood of the champion getting to the winner's circle by virtue of his skill appears strong.
Enjoy the WSOP Main Event final table, everyone, and remember to check over at PokerNews' live reporting to follow the coverage as you watch. You can also peruse our decade-by-decade history of the WSOP Main Event here at Learn.PokerNews in between hands to learn how the tournament grew from a small gathering of gamblers into an international spectacle:
For all the latest here at Learn.PokerNews, follow us on Twitter @LearnPokerNews! Find us as well on both Facebook and Google+!