Orpe's Top Ten: Joe Stapleton

Michelle Orpe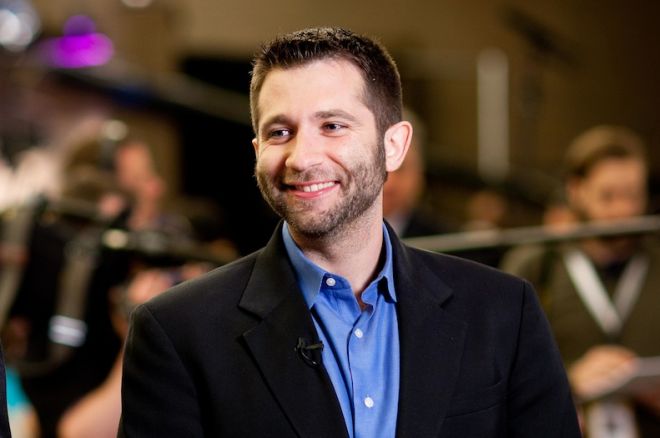 International man of mystery... no, I mean international comedy super star... no wait... international poker sensation? Hang on a minute. Who am I talking about? I'm talking about a man... who... is not a woman... the one, the only... Joe Stapleton!
Yes that's right, the gods would have it that within the vicinity of my cyber reach, I managed to get in contact with and actually speak to James Hartigan's sidekick. Can you believe it? Mr. Joe "Stapes" Stapleton.
A self-acclaimed "monkey," Joe's is a true zero-to-hero story. He started off on the floor at the 2005 World Series of Poker where he was a big fat zero. Then through hard work, persistence, and flukey bit of luck via his friend Scott Huff, he was offered a gig to write about the event and so began the journey to hero.
When he finally gets there, we'll let you know. ☺
In all honesty, Joe is a much-loved character in poker and a welcoming, recognizable voice for any TV poker event. His dreams started in Hollywood where he tried to become a comedy writer, but as fate would have it his future was within the poker world and we're lucky to have him.
He has done everything from shows like PokerStars' The Big Game and EPTLive to numerous poker podcasts including The Circuit, PokerRoad Radio, The Poker Beat, and Poker Update Weekly. And the list goes on.
I am a massive believer in the value of jokes and I think they most definitely are not used enough, especially in serious poker tournaments where apparently joking is bad when there is so much money at stake. I have been told off many times for cracking jokes inappropriately myself, so I love it when it's someone else bringing the much needed humor. What is the point of life without some laughs? Go Joe, and please never stop bringing them.
Here's this week's Top Ten, presented with a splash of the Stapleton charm:
1. What made you decide to play poker and how did you get into it?
I barely even play poker. I moved to Los Angeles to write comedy. My comedy partner, Scott Huff, and I sat on milk crates in our apartments bitching about girls who wouldn't talk to us because we weren't Pauly Shore, and dealing out hold'em hands.
2. What is the best piece of advice you can give to a new player?
Don't be afraid to ask questions. It feels stupid to admit you don't know what you're doing, and there are plenty of people who will also try to make you feel stupid, but you're not. Probably. Actually, what am I saying? I don't even know you. You could quite easily be stupid. If you're stupid, ignore this answer.
3. What are the five top elements to consider when playing a hand?
Earth
Wind
Fire
Water
Table dynamic
4. What do you think has made you such a successful player and what are the attributes a player needs to become as successful as you?
I'm not a successful player. I'm a lifetime loser at poker. Big time. Awkward! If you want to know how not to play poker, I'm your man.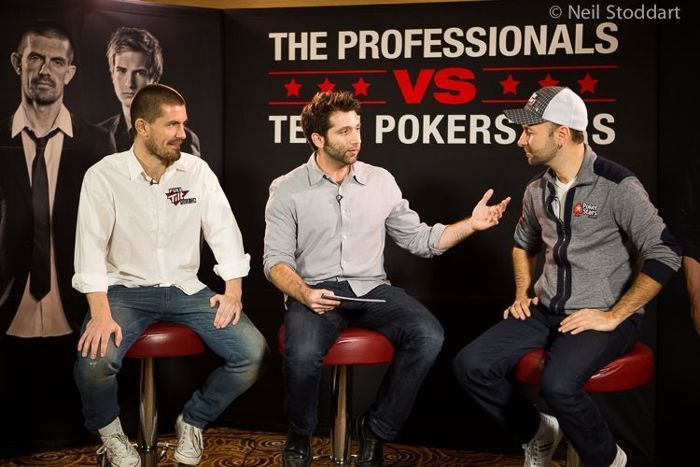 5. What are your favorite poker tells at the table?
"Is it on me?"
--long exasperated sigh--
"Please fold, I have aces and I don't want to get bad beat."
6. Who is your poker idol and why?
I was going to say my poker idol is Joe Sebok, because he dated Shannon Elizabeth, but I guess that would mean I would have to be my own idol.*
*I'm lying.
7. What is the craziest thing ever to happen to you at the poker table?
Flopped quads then beat by runner-runner royal flush... while a woman gave birth, on the felt, to a beautiful baby boy she ended up naming after me. It was nuts.
8. If you could play heads up against anyone in the world, who would it be?
Probably Stu Ungar. I feel like he'd be folding to me a lot.
9. Who is the biggest celebrity you have played a hand against?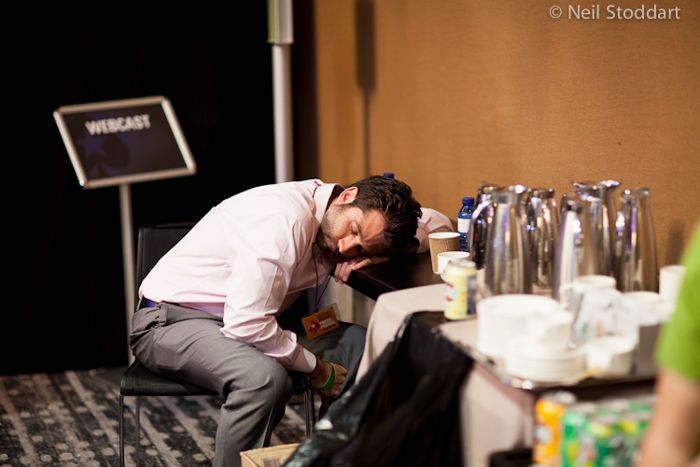 Hank Azaria. James L. Brooks. Sam Simon. And I once played a hand against Phil Hellmuth, Jr. where he taught me how to drop names.
10. If you weren't a professional poker player, what would you do?
Well, I'm not a professional poker player, but if I weren't doing what I'm doing now, I'd probably be in a Nickelback cover band cover band. That's right. A band doing covers of another band doing covers... of Nickelback. Also known as: winning at life.
Much thanks to Joe Stapleton for taking the time. Remember, Joe will be coming to a casino near you soon in his thongs, so be sure to follow him on Twitter @Stapes to receive adequate warning. ☺
Lead photo courtesy the PokerStars blog.
For all the latest here at Learn.PokerNews, follow us on Twitter @LearnPokerNews! Find us as well on both Facebook and Google+!