Orpe's Top Ten: JP Kelly

Michelle Orpe
Poker player JP Kelly — the "JP" for John Paul — hails from Aylesbury, England. Kelly is one of the online elite who started playing full time in his teenage years, and to his numerous big scores on the virtual felt he's added much live success as well.
Most young professional wannabes come ripe from college, either quitting their education midway through or leaving their jobs to follow in the footsteps of the poker idols that come before them. Unfortunately many of these young whippersnappers have no idea how much dedication and hard graft has to go in to becoming a poker playing professional.
Kelly, however, did not fall into this trap. He constantly worked on his game, studied and grinded the tables, and very quickly became one of the most promising, up-and-coming players in the country.
Seven years on and Kelly is now 17th on the United Kingdom's all-time money list with over $2.5 million in live tourney earnings, plus he's claimed over a $1 million online in tourneys as well. He regularly frequents high-stakes cash games as well as he constantly travels the world to play.
Kelly has 15 WSOP cashes and two bracelets — one from each side of the Atlantic — and is in fact the first ever U.K. player to win WSOP gold twice. You might think that with such success Kelly would be an arrogant, self-assured, egotistical so-and-so, but you couldn't be more wrong. He is one of the nicest, down-to-earth, affable players you will be lucky enough to meet — and a hilarious companion on a night out.
So of course when asked Kelly was happy to take time out of his busy poker schedule to participate in my Top Ten:
1. What made you decide to play poker and how did you get into it?
I watched it on TV and thought it looked a fun game and a good way to make some money!
2. What is the best piece of advice you can give to a new player?
Treat it like a hobby and don't play too big.
3. What are the five top elements to consider when playing a hand?
Position
Hand strength
Your relative stack
Table image
Players left to act
4. What do you think has made you such a successful player and what are the attributes a player needs to become as successful as you?
Knowing people's patterns and always adapting to them. Taking advantage of other players' weaknesses, too.
5. What are your favorite poker tells at the table?
When people look sad and then raise — virtually always the nuts.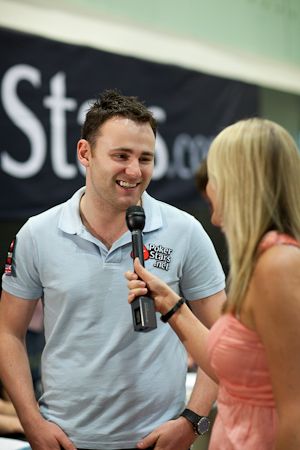 6. Who is your poker idol and why?
Phil Ivey because he's the best at virtually every game.
7. What is the craziest thing to ever happen to you at the poker table?
I was given first-place money once with four players left. I guess they didn't think they could beat me! They carried on playing as well for second-place money and I was already in the cash game!
8. If you could play heads up against anyone in the world, who would it be?
Roman Abramovich.
9. Who is the biggest celebrity you have played a hand against?
Don Cheadle.
10. If you weren't a professional poker player, what would you do?
I have no idea!
Much thanks to JP Kelly for taking the time. You can follow his career on Twitter @JP_Kelly5.
For all the latest here at Learn.PokerNews, follow us on Twitter @LearnPokerNews! Find us as well on both Facebook and Google+!