One of the 27: Interview with Mike Sneideman, Player in the Canceled Borgata Tourney

Carlos Welch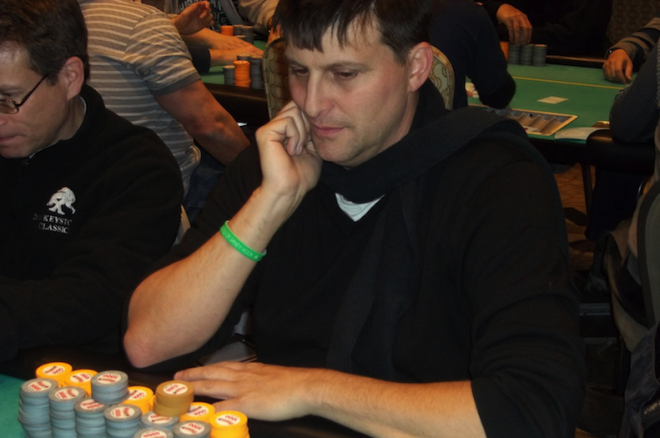 Recently, I sat down with poker player Mike Sneideman. He was one of the final 27 players in Event #1 of the 2014 Borgata Winter Open, a $560 no-limit hold'em tournament that attracted 4,812 entries and featured a prize pool of more than $2.4 million. That was the tournament last month that came to a screeching halt due to a counterfeit chip scandal, causing the tournament to be canceled with 27 left. I wanted to get an insider's account of the events from that day.
Thanks for talking with us, Mike. Can you tell us a little about yourself?
I am a part-time poker player and full-time mailman in Newtown, CT. I've been playing poker seriously for a little over a year now and so far I have had some good results. Naturally, like many casual players, I have ambitions to play poker full-time. I began studying the game seriously a year-and-a-half ago to perhaps give me the opportunity to make a career change.
How has being a part of this scandal impacted your plans to become a poker pro?
You never know what would have happened if Christian Lusardi hadn't come to Atlantic City, but I was going to get an opportunity to play for life changing money until the tournament was shut down by the New Jersey Division of Gaming Enforcement (DGE). $220,000 is the amount of money I have calculated that I would need to take the leap to become a properly bankrolled professional poker player. This might have been the big score I needed to give me the freedom to be closer to my son.
How would becoming a professional poker player allow you to be closer to your son?
I want to be a professional poker player in order to become a better father. I know that sounds ridiculous, but my son lives with his mother all the way across the country in California. I have been unable to get a transfer there with the USPS. I've made some mistakes in the past, including dropping out of graduate school several times, so there aren't a lot of other good jobs I am qualified for out there.
Of course, part of the reason I have played so much poker recently has been my growing love for the game, but the lure of self-employment and the freedom to move to sunny California to be with my son is definitely a huge factor.
How do you expect this scandal to be resolved and do you have a time frame as to when that will happen?
I got an email from Borgata on February 7 saying they expect a resolution to happen "soon." Maybe I'm too much of an optimist, but I expect to hear some very good news within the next couple of weeks.
It seems playing this tournament out is highly unlikely and the logical move would be to chop up the remaining prize pool. I have only about 2% of the chips so, depending on which method they use to chop it, I expect to get somewhere between $28,000 and $53,000. If it is less than $40,000, I will be just a little bit disappointed that this guy cost me an opportunity to play for more.
Did you ever play with the guy who smuggled the chips in? What are your feelings towards him?
I did not play with him in this tournament. I didn't recognize his mugshot, so I don't think I have ever played with him in previous tournaments, either. Maybe it's because I live in Newtown [location of the Sandy Hook Elementary School school shooting] and need no reminder that true evil exists, but I can't get too worked up about the guy. He's a small-time drifter who, unless you think a Harrah's toilet is the best place to dispose of hundreds of poker chips, appears to be comically dense. [Sneideman refers to the circumstances surrounding Lusardi's arrest.]
Ha! Agreed. Do you think he acted alone?
Like many players, I was expecting a half-dozen arrests, but it appears he might have been the only player smuggling the chips into play. Several people said he had a buddy with a backpack who was railing him and constantly coming up to the table to check up on him. Maybe he was giving him the chips? I can't verify this but it seems plausible that this would be how Lusardi would go about his crime. If so I would hope Mr. Backpack would be facing jail time as well.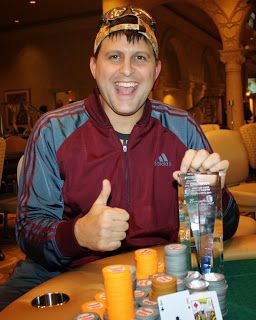 Did you notice any signs of foul play during the tournament?
I had no inkling that the tournament had been corrupted. A player at my table on Day 2 started talking about the shiny chips and how they looked strange but it never occurred to me that they might not be real Borgata chips. I didn't know there was a problem until we were pulled aside and told we would not be playing.
How well do you think Borgata has handled the situation so far?
I have no real complaints about how the Borgata has handled this. They did the right things.... [They] saw that the tournament was compromised, called in the DGE and let them investigate. Lusardi's crimes have made their lives difficult I'm sure. From the beginning, I have defended the tournament poker staff on my blog. Naturally, if this is not made right I'll feel differently.
How do you expect this to affect future poker tournaments?
This is an interesting question. A lot of people have said that if the Borgata is forced to pay out the remaining players and give everyone their entry fees back, then future tournaments could be deemed too risky and the result would be a significant drop in the volume of live MTTs or a substantial jump in rake. These would both be very bad outcomes for players.
I think what is more critical for the future of poker is not what the DGE or the Borgata decides, but what happens in the criminal justice system. If Lusardi gets serious jail time, then I think that this would be much less likely to happen in the future. Will this deter recreational players from showing up at tournaments? I doubt it. People absolutely love this game.
What is something we as players can learn from this?
I think players will probably be more vigilant for signs of malfeasance in the future and do a better job of self-policing our games. However, I think it is important to acknowledge that this was unprecedented and not the norm. Knock on wood, but I would be very surprised if we ever see this happen again.
Thanks to Mike Sneideman for taking the time. Read more about him at his blog, Merry-Go-Rounder.
Photos courtesy the 2013 Borgata Fall Poker Open and 2013 Borgata Winter Poker Open blogs.
For all the latest here at Learn.PokerNews, follow us on Twitter @LearnPokerNews! Find us as well on both Facebook and Google+!