Orpe's Top Ten: Oliver Price

Michelle Orpe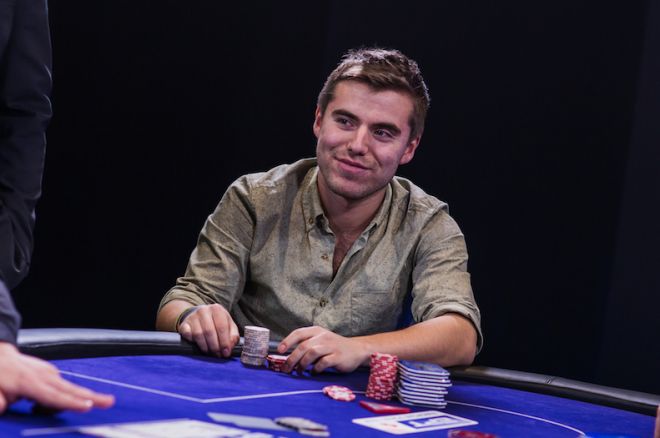 I do enjoy picking out young, up-and-coming professionals to chat to, so it was a no-brainer to grab London-born Oliver Price for my latest Top Ten. We get an extra few questions for free in this one as well, including some insight from Price concerning how it feels to come so close to a European Poker Tour title as he did earlier this month when finishing third in the EPT10 Deauville Main Event for €271,200 (worth about $370,000 USD).
The 23-year-old had a typical British schooling, doing okay in his GCSEs and A Levels and deciding to give university a go. But soon Price realized that path wasn't for him and made the very tough decision to quit and try his hand at professional poker.
I call Price "up-and-coming" because in media-speak that is what he is, but truthfully he has been playing for a while — and quite successfully, too. He found the game at age 14 and has been playing ever since. He prefers cash games and cash game players don't get as much recognition as tournament players because the media primarily focuses on covering tournaments.
For several years Price spent his days grinding the cash tables while adding a few cashes on the tournament circuit. But it was a second-place finish in the PokerStars Sunday Million in April 2013 that first saw him appear in the poker media, including being interviewed by our own Matthew Pitt for UK.PokerNews. He earned $184,688 for chopping that one, and ever since he's gone from strength to strength, building further on his tourney successes and not stopping to work out where he is going to spend all his glorious winnings.
Indeed, it has been a great run for Price since his big Sunday Million score. Last summer saw him pick up two cashes at the World Series of Poker including a deep run in the Main Event where he finished 49th for $151,063. He final tabled a prelim at EPT10 London last October (finishing third), then came the third-place finish in the EPT10 Deauville Main Event earlier this month. And just days later he won the £1,000 buy-in Main Event of the Grosvenor UK Poker Tour in London, topping a field of 323 to earn another £86,400 (worth a little over $140K USD).
In his spare time Price plays sports to keep fit, including squash and football, and he also plays guitar. He was even in his own band before poker took over his life, called The Chinese Fireworks Company. (Hey Liv, you two could start up a band — I'll take the keys.) Price also looks after his Mum's blind and arthritic cat. In other words, on top of being sporty, talented, and rich, he is also a big softy.
You may think Price is currently enjoying a lucky streak that could come to an end at any moment, but if you read his responses below you'll soon realize this is one very clued-in professional who is only just starting to show us what he is made of.
1. What made you decide to play poker and how did you get into it?
I was introduced to the game by a friend at 14, and we started to play £5 home games. Soon after, I started playing some freerolls online, and then due to the relaxed age enforcement at the time, I was depositing and playing real money games by 15. I started to do pretty well playing 50NL heads-up on PokerStars, and that allowed me a lot of financial independence through my last years of school.
2. What is the best piece of advice you can give to a new player?
Don't be afraid to ask for help. It's a common misconception that the tools to become a great poker player are engrained within you, but I'm sure most top players would agree that the majority of things that make their games so good are things that they've picked up or learned along the way. With so many forums and training sites around, there really is no reason to be relying solely on yourself to improve.
3. What are the five top elements to consider when playing a hand?
Great question. In no particular order I would say:
Your opponent's range
Your perceived range
Your relative position to your opponents
Your opponents' tendencies (as in how often they may bluff a river, or how they'll react to a check-raise)
Effective stack sizes and pot size
4. What do you think has made you such a successful player and what are the attributes a player needs to become as successful as you?
It's hard to define what separates players exactly, but I think for me I had a turning point around two years ago when poker really started clicking. Before this I would have considered myself a "feel" player who thought I was better than I actually was. It was enough to beat low-to-mid stakes live games and small stakes online, but it was definitely holding me back from playing at a higher level.
After shifting my thought process to a more game-theory standpoint and putting a lot of work into revamping my game, I quickly saw my results online improve, and this in turn allowed me to start taking shots at bigger live tournaments and cash games.
5. What are your favorite poker tells at the table?
Coming from an online background, tells play a somewhat small part of my game. But as I play more and more live poker now, it is something I'm trying to work on. Not so long ago I started reading Zachary Elwood's Reading Poker Tells which talks a lot about tells being really player-dependent, and there not being a "one tell fits all" rule that some people may think.
This makes it difficult to talk about any general tells, but I did have a guy on my right deep in the EPT who when looking at his hole cards preflop would always stare at his cards for a second or two with a weak starting hand, and snap look back up when he had a stronger hand. Although opportunities to really use this information barely arose, it was pretty satisfying to know I was starting each hand with this huge edge over him.
6. Who is your poker idol and why?
I'm a really big fan of Phil Galfond. I think the way that he talks about the game and teaches the game is really top class. I've been a member of his relatively new training site RunItOnce, and the content that he and the other coaches put on there is really invaluable to the progression of my game.
7. What is the craziest thing to ever happen to you at the poker table?
Unlike some of the old school guys, I unfortunately don't have any tales of games getting robbed at gunpoint or anything. In the Main Event last year a guy from RunItOnce came round giving all its members left in the tournament an iPad mini. That was pretty sweet and unexpected.
8. If you could play heads up against anyone in the world, who would it be?
I recently got a bit of a ribbing from Joe Stapleton during the EPT final table broadcast over making some perhaps overly tight folds for ICM [Independent Chip Model] reasons. So I guess I'd like a grudge match against him. Although in all fairness, I think he's a great commentator and certainly brings the entertainment value of televised poker up a notch or two.
9. Who is the biggest celebrity you have played a hand against?
Brian Lara sat on my right in a cash game once. I'm not much of a cricket fan, so it took me a while to realize.
10. If you weren't a professional poker player, what would you do?
That's a difficult question. I've never yet had or needed a real job, so have never given it too much thought. I'm not sure I'd be too qualified to do all that much really, but I'd imagine I'd be most suited towards a job in banking as a trader maybe.
11. There is a body builder named Oliver Price. Do you ever get mistaken for him?
Well, I have started going to the gym a little bit more, so I wouldn't blame anyone for getting us confused. But generally it's not a problem. Hopefully with some more big scores I can knock him off the top hit for googling "Oliver Price." That's my main goal for the foreseeable future.
12. How did you find playing the EPT10 Deauville Main Event and how disappointing was it to come so close to victory?
The EPT itself was pretty smooth. I had to sweat a couple of big flips later on in the tournament, but other than that it was reasonably plain sailing to the final table. I generally felt really comfortable, even at the tougher tables I played at. I was feeling really confident that I could go all the way, until later into the final table where I was pretty short-stacked when it was five-handed.
At that point my main plan became to ladder as much as possible. Once it was three-handed and there were no other short stacks left, I started opening up. I maybe could have played with a different strategy earlier on to give myself a better chance of winning, but I was trying to play in a way that would show me the biggest profit in the long run. So for these reasons I considered locking up third a great result, and I wasn't too disappointed with not going further.
13. How difficult did you find the play?
This was only my 2nd EPT, but Deauville is supposed to be one of the softer stops on the tour. There were a lot of great players in the field, many of whom I came across over the six days. But to put it in perspective, I remember telling a friend on one break that if I were to have this table playing the "Big $11" online [on PokerStars], I would be over the moon.
14. You sold a piece of your action for the EPT10 Deauville Main Event. Did this affect the way you played?
If you were to execute proper bankroll management, then EPTs would be exclusively played by players with €500k+ bankrolls. So it's important to sell action to larger events that are perhaps outside of your bankroll.
It shouldn't make a difference, but I guess this relieves some pressure while playing, allowing you perhaps to take some thinner spots you may otherwise not have taken had you stumped up the full buy-in out your own pocket. There could have been some of this going on with me, but I generally try not to think about any of that and just concentrate on playing optimally no matter what. Some people just generally run good, too, so it doesn't hurt to have their money invested either.
15. What tips would give a rookie player looking to play in a big tournament like the EPT?
I guess just relax. The stakes may be higher than you're used to, but it's still the same game as you've always played. Don't try and win the tournament in the first day either. It's a marathon, and surviving each day is key.
16. How did it feel to cash in the 2013 WSOP Main Event? Was this your first try at it?
Yes, that was my first time playing the Main Event. Going deep in any tournament is nice, but it was such a buzz to do it in the Main especially. 49th is not a particularly special placing, though, so I was pretty disappointed to bust at the time. Getting in another spot to win $8.5 million will probably prove quite tricky, too.
17. What is next for Pricey and how are you going to spend all that glorious cash?
I don't have much planned really. I'll definitely play a couple more EPTs and other live tournaments in the run up to Vegas, but I doubt it'll really change my day-to-day grind too much. Some traveling around Africa would be cool at some point, too. As for the cash, I don't really drive or wear a watch, so I'm a little stuck for ideas on any grand purchases. I'll try and put it to good use, though.
Much thanks to Oliver Price for taking the time to answer my ten questions and then some!
For all the latest here at Learn.PokerNews, follow us on Twitter @LearnPokerNews! Find us as well on both Facebook and Google+!