The Tough Road for a Poker Tournament Pro

Darrel Plant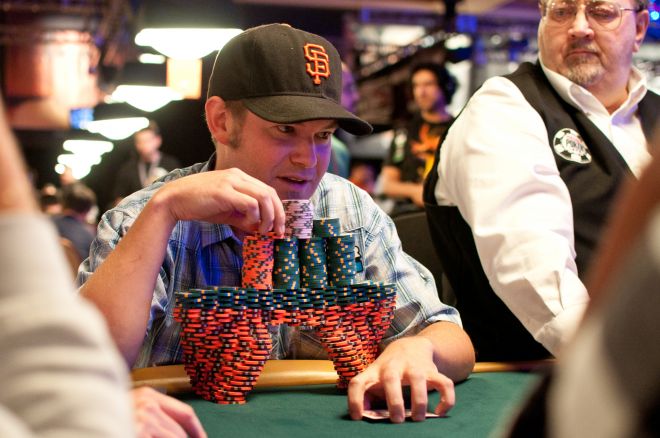 Bryan Devonshire — no slouch with more than $2.5 million in live and online tournament cashes — wrote recently that being a tournament specialist in the United States "isn't a viable profession" without playing high stakes. He added that even in Las Vegas a full schedule of daily and series tournaments isn't enough to make it. In other words, you need cash game skills to survive. Or if you live in the U.S., you need to move out of the country to play tournaments online (at least for now).
It seems like there are so many tournament series out there — and such an abundance of daily games in Vegas, Los Angeles, and elsewhere — that this couldn't possibly be true. But as with so many things, cold, hard reality emerges from running the numbers.
Keep Your Eye on the ROI
First off, if you're lucky enough to win a giant score at the start of your career, you can just ignore the math. If you win this summer's 2014 World Series of Poker Main Event and claim that $10,000,000 guaranteed first prize, you'll be able to buy into 1,000 more $10,000 tournaments (not counting taxes, of course), should you live long enough to play that many. Your poker career could cruise for a long time — just don't blow it all in one place!
While you're waiting for the big score, though, you need to pay the bills. If you've chosen the profession of tournament poker player, you need to bring in enough income every year to pay the bills including your tournament entries. For that to be a "viable" profession, you need to do it over and over again, making enough extra in good years to balance out the bad (because there will be bad years).
The amount of profit you make on a business expenditure is your return on investment or ROI. If you spend $1.00 and get $1.10, you've got a 10% ROI. If you spend $1.00 and get $0, your ROI is -100%. That latter figure is a familiar one for tournament players, since only the top 10% or so of those who play a given tournament make the money.
Tracking Tourney Take-Away
What kind of ROI can you achieve long term playing live tournaments? A lot depends on the number of entrants, the payout structure, and the fees, but you can make some generalizations based on available data.
Online, the top players have an overall ROI between 20% and 40%, based on tens of thousands of tournaments ranging from sit-n-gos to huge Sunday events over a period of years.
The ROI for top live tourney players is harder to come by because live buy-ins aren't usually tracked, but for a couple of years the WSOP published the entry lists to their summer series tournaments. The 136 players with 50+ entries each for a two-year period had an aggregate ROI of 11% based on nearly 8,000 entries. That's some serious expenditure, and all of the players in this group were recognizable pros. WSOP events are almost all large fields which tend to depress ROI, so you can assume that as a lower range for professional level players.
Enough Days to Play?
For our calculations, we're going to speculate (optimistically) that an ROI of 25% is attainable in the long term, which means (eventually) making $0.25 profit for every dollar spent on tournament entry fees. With such an ROI, for every $40,000 spent on tournament entries, you hopefully make $10,000 in profit.
But playing live tournaments costs more than just the buy-ins, especially for those traveling the circuit. Someplace to sleep (whether you're on the road or not), food, clothes, travel... these things add up. If you're a professional — that is, if you're in it for the long term and not just hoping that you get lucky before you go broke — you might want enough to have a life partner, help raise kids, have insurance, and so on.
In other words, earning a reasonable living is a tough goal for a live tournament specialist. To earn an average income of $60,000 each year with a 25% ROI, you'd need to spend an average of $240,000 on tournaments. If you allow yourself four weeks a year of time off, that comes to $1,000 in entries per day, five days a week, 48 weeks a year. The biggest daily tournaments during the week in Vegas are $150 and $200 (up to $300 on weekends), and there are only so many of them you can play each day. Two dozen $10,000 events each year hits the target, but a lower quantity of events means a higher variance and a bigger hole before you (hopefully) turn things around.
If you regularly enter two live tournaments a day — say, a noon and a 7 p.m. tournament — playing on the weekends and taking two days off during the week, you can enter about $1,600 of daily tournaments each week in Las Vegas, which is only about a third of the target of $5,000 in entries per week. You could easily enter more tournaments per day, but you need to play them to win, not just to enter. With a 25% ROI, playing at that pace would get you about $20,000 profit each year, which could be bulked up with higher buy-in tournament series.
So if you're well placed to get from casino to casino and can keep your expenses to a minimum, it is at least possible for you to make a decent living specializing in live tournaments. But it's a difficult goal to build toward, and in some ways constructing such a career seems as difficult to pull off as one of Devonshire's gravity-defying chip constructions.
In other words, as has been said before about poker, it's a tough way to make an easy living.
Darrel Plant lives in Portland, Oregon. A computer programmer by profession and a game player at heart, he writes about math and poker at his blog, Mutant Poker. Read more of his analysis of the practicality of earning a living as a full-time tournament player in his article "In the Money."
For all the latest here at Learn.PokerNews, follow us on Twitter @LearnPokerNews! Find us as well on both Facebook and Google+!