Orpe's Top Ten: Ross Boatman

Michelle Orpe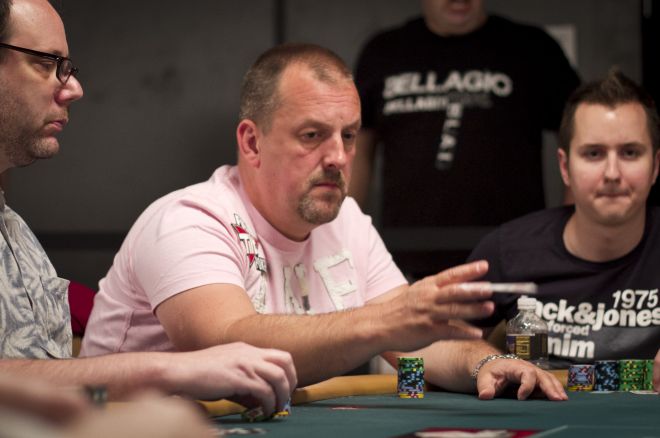 Last week we heard from Barny Boatman, the elder of the Boatman brothers who hail from London's King Cross and who form half of the original Hendon Mob. Today I have captured younger brother Ross for a sit-down to talk about his path to poker and his advice to beginning players.
Like Barny, Ross found poker early, and in fact it was while being baby-sat by his big brother that he muscled his little way into the lads' poker game and has been hooked ever since.
For a lot of professional players, poker is their primary calling and the one into which they've put their entire being. For Ross, poker was a second calling, his first having been acting. Like poker, acting is an industry that most dream about being involved in, but don't have the skills, the luck, or the determination to pursue. But Ross has managed to excel at both.
Some actors expect the big parts to fall into their laps with no graft, but Ross understood the importance of performing and working on his craft and so spent his post-school years finding parts wherever he could in fringe theatre and local productions.
He auditioned for the Royal Academy of Dramatic Art (RADA) then rose to fame for his role as Kevin Medhurst in the popular, long-running TV series London's Burning. He has had many other roles on British television and has even hit the big screen, playing a character named Bear in the gangster hit Hard Men.
When not acting Ross plays poker along with his fellow Hendon Mobsters Barny, Ram Vaswani, and Joe Beevers who constantly travel the world, raking in the cash and spreading the poker word. On his own Ross has amassed nearly $2 million in live poker winnings from over 100 cashes, including 17 at the World Series of Poker.
When not doting on his family, playing poker, or performing on the stage and screen, Ross can be found loyally railing his brother and generally enjoying his time on the poker circuit.
As Barny did last week, Ross was generous enough to answer a few extra questions on top of the usual Top Ten:
1. What made you decide to play poker and how did you get into it?
I'm not sure if there was ever a particular moment when I decided I was going to try and make a living playing poker, it was just something that happened bit by bit. I am after all an actor by profession. It was being an actor that was my childhood dream, it was what I trained for at the Royal Academy, and I would still always gladly put down a deck of cards in exchange for picking up a good script. Unfortunately making acting a career choice comes with no guarantees, and although I've been lucky enough to have some success, I have had many long periods of unemployment. My Mum always warned me that acting would be a precarious business to be in, and advised that it might be a good idea to have something else up my sleeve just in case. I don't think poker was exactly what she had in mind, but for me it was a no-brainer.
I was just ten years old when I picked up a deck of cards and played poker for the first time, and it was my big brother Barny who introduced me to and taught me the basics of the game. My Mum and Dad were out for the evening, and being some years younger than my brother I had been left in his charge. Barny had invited some friends around and was hosting a poker game downstairs in the kitchen. I remember sitting on the stairs and watching them play. They seemed to be having so much fun that I just had to be part of it, so eventually I plucked up the courage to ask if I could join them.
It was a long time ago so the details of that night are a little foggy now, but there is one moment that I will never forget, raking in my first ever pot, a huge pile of shiny coins, enough to keep me in sherbet pips and lemon drops for months to come. Of course I had no real idea of what I was doing back then, I was just a kid, and to this day I couldn't tell you if the boys were only being kind and letting Barny's kid brother nick a few quid, or if I just got very lucky. Either way it doesn't really matter now, it was a defining moment in my life. There was something irresistibly exciting about playing a game, having fun, and winning lots of money all at the same time. The feeling was so seductive in fact that I've never looked back. In that one moment I was, and have been ever since, addicted to poker.
2. What is the best piece of advice you can give to new players?
I often find that when I meet people who express an interest in taking up poker that their only experience of the game is watching the young guns and hot shots playing high stakes on TV. They imagine themselves there sporting their sunglasses, playing it super cool, and making tremendous bluffs against the giants of the game. It's easy to see how they can be seduced by the glamour, adrenaline, and lifestyle that being a high stakes player might bring. Of course those of us who have been around the block a few times know that there's a lot more to poker than puffing your chest out and saying, "I'm all in!"
I suppose if I was to offer them one piece of advice it would be to take their time and not rush into playing the biggest games they think they can afford. Play small, study the game and try to master your skills without putting yourself under any financial pressure. Then if you're beating the game on a regular basis, move up to the next level, and so on.
3. What are the top elements to consider when playing a hand?
Before I enter a pot the elements I am most likely to consider are:
The cards I've been dealt
My position
Any betting that takes place before the action is on me
Any betting I think is likely to occur once the action has passed me
How the table is playing
Any tells I may have picked up
The strengths and weaknesses of my opposition
And chip stacks.
4. What do you think has made you such a successful player and what are the attributes a player needs to become as successful as you?
I don't really consider myself to be an especially successful poker player, not by today's standards at least. I've had some decent results over the years and picked up a few trophies along the way, but when it comes to the majors I never quite got there. I've finished 33rd in the WSOP Main Event, I've made four WSOP final tables, 6th in the EPT Grand Final, 26th in the Aussie Millions, cashed four times in the $25,000 WPT World Championship (once at the last three tables and twice at the last two, 15th being my best finish), and one 1st in a WPT High Roller event.
It feels to me that when I need to win those vital coin flips in the final stages of the big tournaments that it just never goes my way. I don't know, maybe I'm kidding myself, and the reality is that I just don't have what it takes. Either way it doesn't make much difference these days, as at the end of 2009 I pretty much retired from the international poker scene. I do most of my travelling around the UK these days. The prize money isn't as big, but neither are the expenses and entry fees. There is less pressure, plus I get to spend more time with my family, and that suits me just fine. The only date on the international poker calendar I couldn't bare to miss, while I've got a few bucks in my kick at least, is the WSOP. I plan to be there from the beginning this year, and if I haven't gone lights out by time the Main Event rolls around, I'll be there for that, too.
I think the attributes required to be a successful player are having a good understanding of the odds, the ability to read your opponents, patience, discipline, and well-timed aggression. Having big balls, a big heart, and an even bigger bankroll doesn't hurt. Also I think it's important that you play to win, but that you aren't afraid to lose.
5. What are your favorite poker tells at the table?
Most players have the odd tell, myself included I'm sure. There are a few classics — weak is strong and strong is weak, for example — but how I size up someone's particular tell or which are my favourites is something I'd rather not discuss here. Poker is hard enough these days without telling every young genius exactly how you're thinking
6. Who is your poker idol and why?
"Idol" or "hero" are not words I would ever use to describe any poker player. Not for actors, football players, movie directors or musicians, either. I can admire their work or enjoy watching them perform. I can appreciate what they do, even find it uplifting or moving in some way, but to idolize someone for their ability to kick a ball or sing a song or make a bluff, even if they do it exceptionally well, is not where I'm at. My heroes are the people who are prepared to do whatever it takes to make the world a better place. From the ordinary men and women who fought and were prepared to lay down their lives in order to defeat Hitler, to the extraordinary, like Gandhi and Mandela. Remarkable men who were willing to do whatever needs be in their struggles to achieve peace and equality. These people are my heroes.
7. What is the craziest thing to ever happen to you at the poker table?
I can't recall anything especially crazy happening to me at a poker table, but I do remember something kind of disturbing, but sort of funny at the same time, that happened at The Victoria Sporting Club many years ago.
There was a deal yourself fifty-pound, seven-card stud game going on in one corner of the room. I can't remember now who the players were, but they all seemed pretty ancient to me at the time. All of a sudden one of the old boys turned blue and clasped. The poor fella had suffered a heart attack. After much fussing and commotion an ambulance crew turned up. They strapped him to a stretcher and clamped an oxygen mask to his face. He can't have been carried more than five feet away from the table before a huge argument broke out amongst the remaining players. They were practically rolling up their sleeves up and breaking into fisticuffs. "Is his hand still live?" one of the old fellas demanded to know. "Of course it is! Cards speak, turn his hand over and let's see what he's holding," exclaimed one of the patient's pals. "Rubbish" complained one of the blokes who was still holding cards. "He's dead and so's his hand." Ruthless but kind of comical.
8. If you could play heads up against anyone in the world, who would it be?
If I could choose to play heads up in the final of a major tournament with anyone in the world it wouldn't be any of the obvious. I wouldn't pick Ivey or Hellmuth or even my brother, even though we always swap a decent share. It would be some broken down, half blind Joe Blogs that I could run all over. There might be millions at stake. Why would I want to play with some bleedin' hot shot genius?
9. Who is the biggest celebrity you have played a hand against?
The biggest celebrity I've played poker with has to be Clive Owen, a close friend who happens to be an A-list Hollywood movie star. We went to college together and used to play with some of the other students in a regular game that was held at my flat in North London. Clive wasn't half bad as it happens. I think between the two of us we pretty much cleaned up every week.
10. If you weren't a professional poker player or actor, what would you do?
If I couldn't make a living between playing poker and acting I think I'd like to be an astronaut. I'm fascinated by what's out there in space. Astronomers have already discovered hundreds of planets in our galaxy and believe there are thousands if not millions more that are yet to be discovered. Many of these planets will be in the so called "Goldilocks zone" — not too hot and not too cold. In other words capable of supporting life. How cool would that be, seeing what the action is like in outer space?
11. What was it like to see your brother take down the $1,500 event at the WSOP last year?
Barny Boatman is not only my brother he is also my best friend. We shared the same house for many years, and we've been travelling the world together for almost thirty. We love and support each other in every way we can. If I ever have any problems, be they personal, financial, or any other kind, no matter how big or small, I know one hundred percent I can always rely on Barny to be there for me. Watching him win a bracelet at the WSOP last year was magical. I know these days, if you want to be considered cool, your supposed to say that you're not interested in the trophy, it's only the money that counts. BULLSHIT!!!! Every poker player wants a bracelet, and I'm sure Barny would be the first to acknowledge that fact.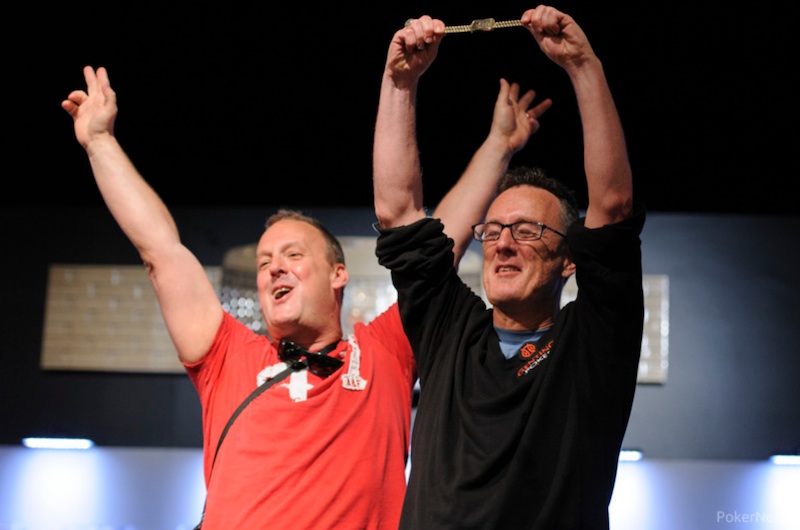 It was an absolute pleasure watching Barny play the final table. He was completely in his element. I don't think I've ever seen him enjoy himself so much. While his opponents looked nervous and tense, Barny was clearly completely relaxed, even playing to the crowd, getting out of his seat when he won a pot to wiggle his bum or pull his jumper over his head to reveal his Union Jack T-shirt. The rail were amazing as well which made the occasion even more special. When the final began it was just Sin menis Melin and myself, but by the time Barny was heads up just about every British poker player who was in Vegas that night must have been there on that rail cheering on the legend that is Barny Boatman. Not just the old guard but all the young pros were there, too. They were brilliant! I don't think the American rail really got our football terrace humour, but we were having a good old British knees up. "There's only one Barny Boatman" was the main chant of the night, but my favourite, which if I remember correctly was lead by Stevie Watts, was when little old man with a long bright white beard and hair to match shuffled slowly across the floor. Stevie started and everybody quickly joined in "Santa Santa give us a wave, Santa give us wave" Brilliant! So random, so English, so funny.
When Barny finally raked in the final pot and lifted the bracelet the crowd went wild. I couldn't have been more happy and more proud for my lovely brother. I remember once a player, I'll mention no names, who had barely been on the scene for more than a year, picking up a trophy and a cheque for about 100k and then announcing in an interview that, "I was due." Excuse my French, but I nearly fucking chocked. Barny on the other hand, after all the years of hard graft, after everything he's done to promote the game, after endless close calls and bad beats, never losing hope and always keeping the faith... finally! The Jimmy White of poker, the "people's champion" has the accolade he truly deserves. Go on Barny!!!
12. Is there a lasting rivalry between you and your brother at the table?
I don't think Barny and I have any particular rivalry between us. I suppose people might imagine that because we are brothers that there must be the stereotypical sibling rivalry, but I can honestly says that there isn't, not as far as I'm concerned anyway, and I'm pretty certain Barny feels the same way. I think perhaps the fact that there are a fair few years between us may well be something to do with that. Growing up he was always my big brother, and I his little kid brother. He used to pick me up from school when I was a nipper, or take me to the pictures on a weekend, he taught me how to play chess and poker, and he took me to my first football match at White Heart Lane. We just never had the kind of relationship where there was any need to compete. Of course if we happen to cross paths in a poker tournament then we might well lock horns, but it's never personal, that's just part of the business we're in.
13. You are predominantly an actor. How did you get into acting and what is it like to be on a movie set?
Putting my finger on exactly how or why I got into acting is a difficult question to answer. To be honest, I'm not too sure. I had to move schools a few times when I was a boy which meant having to find new friends each time. I found that doing impersonations of Tommy Copper and Frank Spenser seemed to be a good ice breaker. Perhaps it was that that helped me develop an interest in acting. The secondary school I attended, occasionally, was pretty rough. It wasn't exactly geared towards academic excellence, but then to be fair, neither was I. By the time I was fifteen I had all but given up going to school, and the only class that kept me in school at all was drama.
After leaving I spent a few years joining small theatre groups and performing where ever I could, pubs, clubs, fringe theatres, and anywhere I could learn my craft and gain some experience. When I was twenty I auditioned for RADA, and by some miracle or fluke I won a place. A year after leaving there I landed the part of Kevin in London's Burning. I'd like to tell you that being on a film set is nonstop pranks and giggles, but that couldn't be further from the truth. Very long days, sometimes as much as fifteen hours, sweating under hot lights, lots of stopping and starting and hanging around. It's seriously dull.
14. Do you find your skills as an actor help you in poker?
Playing poker is all about deception, acting is about being truthful, so no I don't think being an actor helps me with my poker.
15. If you had to hire someone to play you in a movie of your life, who would it be? And you can't say Barny! ☺
Being an actor it's hard to think of who I would choose to play me. Naturally I would like to play the part myself. If I had to pick someone else I fancy I could trust Ray Winston to make a pretty good job of it. Yeah, he'd do I guess. He'd have to lose a few pounds though.
Massive thanks to both Ross and Barny for taking the time to answer my Top Ten (and then some!). Follow Ross's acting career and his poker exploits on Twitter @RossBoatman.
For all the latest here at Learn.PokerNews, follow us on Twitter @LearnPokerNews! Find us as well on both Facebook and Google+!