Orpe's Top Ten: Kara Scott

Michelle Orpe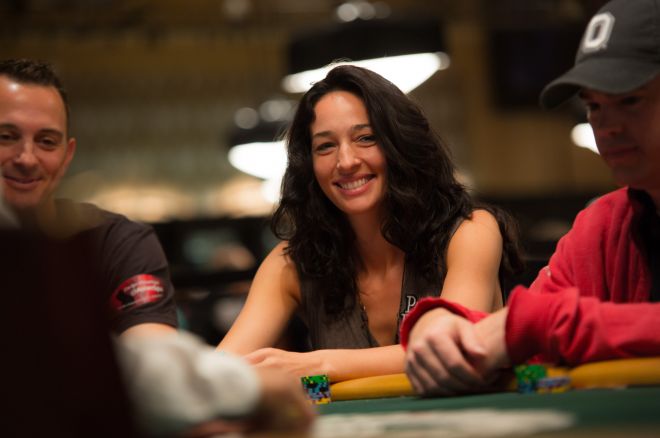 Nine years ago I accepted a job that changed the direction of my career for good — I started hosting a cult TV show called Poker Night Live, the first TV internet poker analysis show of its kind.
Prior to then I had never played the game before, having previously worked predominantly within sports racing. I worked on PNL for three years, during which time I learned the game, growing to love poker and eventually becoming immersed in it.
Since then I have had a poker sponsorship, been to Las Vegas multiple times, played at the WSOP (and many other places), and hosted or been a part of pretty much every UK poker show there has been, not to mention writing articles for an exceptionally fantastic Learn.PokerNews website ;-)
All of which is to say I owe a fantastic 10-year poker career to that little Sky TV show — and I wasn't the only one for whom that is the case. Working alongside me on Poker Night Live was the one and only Kara Scott.
A Canadian TV host from northern Alberta, Scott's first appearance on UK TV wasn't poker-related but in fact involved a different game as she co-hosted both High Stakes Backgammon and the World Series of Backgammon. Through those appearances she was spotted for PNL and it was because of her work on that show that she — like me — fell in love with this crazy game of cards and has been hooked ever since.
Unlike me though, this gal has gone on to rock the poker world with her natural talent for the game. I continued to work with her on Sky Poker and followed her onto the European Poker Tour for PokerStars, but that is where I jumped off the crazy poker bus while Kara rode on, taking it all the way Poker Central and the heights of the WSOP, ESPN, High Stakes Poker, as well as becoming part of the partypoker phenomenon.
Not only is she one of the world's best poker TV hosts, but she is also a very successful professional player. Her live tournament earnings exceed $630,000 and she is only the second female player ever to cash in back-to-back WSOP Main Events (in 2008 and 2009).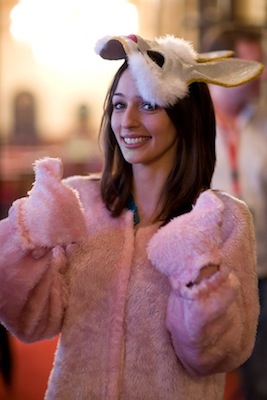 And if that isn't enough to earn a spot high on the Ladder of Awesomeness, she is trained in the art of Muay Thai, starred in Malcolm Martin's 2008 movie Sucker Punch for which she was also line producer, and proved her sense of humor when after losing a proposition bet with Chris Tessaro she once did her commentary at an EPT event dressed in an oversized, pink bunny outfit.
This is one poker lady I have no doubt you will be seeing gracing the felt for many years to come and is a great catch for another of my Top Tenners.
1. How did you first get involved with poker, both as a player and a host?
Before poker, I was working mostly in fight-sports TV. Somehow, I randomly landed a gig hosting a backgammon show in the very glamorous location of Monte Carlo. I'm remember that the location was why I even applied for that job in the first place, as I hadn't done much traveling up to that point.
The now defunct cable channel Pokerzone in the UK picked up our backgammon series and thankfully they liked what they saw. The offered me a job on their programme Poker Night Live alongside some pretty fantastic people — you being one of them! Through that job, I was able to watch thousands of hands of online poker play out while listening to expert commentary. I was fascinated by the mechanics of the game and was driven to learn as much as I could about it. That was my introduction and I have been fascinated by poker ever since.
2. What is the best piece of advice you can give a new player?
Don't be afraid to make mistakes! Learning how to do anything will mean making some mistakes and poker is no different. As long as you're always playing well within your bankroll, you can afford to try things out and push your understanding of the game. If you're too scared of missteps then you're going to struggle to be aggressive enough to be a winning player. Also, in poker, even if you're an 80% favorite, you'll still lose the hand 20% of the time and realizing that ahead of time will help you deal with the bad beats and suckouts.
3. What are the five top elements to consider when playing in a hand?
Position — What is my position at the table and what is my opponent's position? Trying to play hands in position whenever possible is a good rule of thumb, especially when you're just starting out.
Chip stacks — How deep are you playing? Do you (or does your opponent) have enough chips to play down the streets or is it an all-in-preflop kind of deal?
Hand strength — How strong is your starting hand?
Table image — What kinds of hands have I shown down so far? What sort of player will my opponents probably assume I am?
How aggressive my opponents are — What have I seen of their play so far? Have they shown weakness in certain situations? What do their bets and raises usually mean?
4. What is the best poker moment you have witnessed in your career as a TV poker host?
When Greg Merson won the WSOP Main Event in 2012, that was an amazing moment. I didn't really know him before the WSOP but I was so impressed by him as a player and as a person, that watching him win and seeing his parents' reactions were incredibly moving.
I love it when we get an authentic emotional reaction from a winner. I think it helps the viewers really connect to the moment. I've interviewed tournament winners who were so blasé about the whole thing and that's a far less interesting story to tell, from a media point of view.
5. What are your favorite poker tells at the table?
I get very annoyed when players berate people and try to teach "proper" poker at the tables. It happens way too often and it's unprofessional and rude. I suppose the only upside is that it gives the rest of us sitting there a good insight into how the player doing the "teaching" thinks about poker. "I can't believe you called me there" or "You should never make that bet" or "I wouldn't fold that hand" are all incredibly direct poker tells.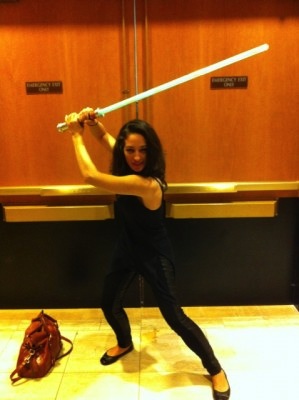 6. If you could play heads-up poker against anyone in the world, who would it be?
Jackie Chan. I have no idea if he even plays poker but I would love a chance to meet him. Plus, if we were playing poker, I'm pretty sure some kind of fight would break out and we would be forced to fend off a flood of attackers with only a deck of cards and a stack of chips. I would basically be auditioning to be his new sidekick and it would be totally worth the broken limbs.
7. Who is the biggest celebrity you have played a hand against or interviewed?
I interviewed the great Hank Azaria during the World Poker Tour L.A. Poker Classic a few years ago. I'm a huge fan of his work and although I was a bit nervous to interview him, he immediately put me at ease. He was funny and interesting and down to earth. Plus, he really loves poker. I got the impression that he would be an awesome person to have at a home game.
8. If you weren't a professional TV host, what would you be?
That's a really tough question. Getting involved in TV was never my plan but it serendipitously turned out to be the perfect career for me as I love the variety and travel it brings. I actually used to be a high school geography teacher but I just didn't have the patience for that gig. That is a big part of why I quit. When my students nicknamed me Twitchy, I knew it was probably time to get the hell out of Dodge and find a job that wouldn't make me prematurely gray. If I hadn't been so incredibly lucky to fall into poker and TV, I'd probably be jumping around from job to job, working temp gigs just long enough to fund my traveling habit.
9. There are a few poker playing actors out there, including Michael Greco, Ross Boatman, and Jennifer Tilly. You have dabbled in professional acting/producing yourself... is this something you plan to do more of in the future?
I was a terrible actor. Absolutely awful. I think it's important to have a realistic view of these things! The little bit of acting that I did was mostly just about having fun and having the experience. The most fun I ever had while I was "acting" was doing some martial arts fight scenes for a little indie film which never actually came out. Learning and performing fight choreography was one of the most interesting experiences I ever had in the film world and not much could really top that. I'm going to do everyone a huge favor and stay well away from acting now. You're welcome!
10. If you had to pick someone to play you in a movie of your life, who would you pick?
Given the choice, I would obviously pick someone way more interesting than me. I'd say Chloe Moretz — she's funny, smart, kick-ass, and would make me look far cooler than I am in real life.
Much thanks to Kara Scott for taking the time for my Top Ten and for the trip down memory lane! Follow her adventures on the felt and in front of the camera at Twitter @KaraOTR.
For all the latest here at Learn.PokerNews, follow us on Twitter @LearnPokerNews! Find us as well on both Facebook and Google+!