Coming Back from the Brink and a Miraculous Runner-Runner

Chad Holloway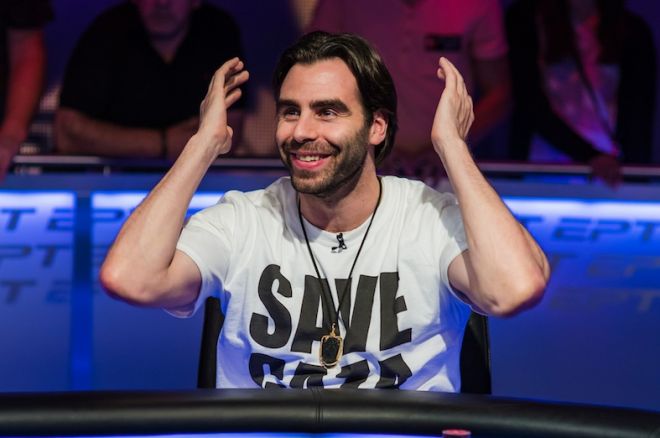 The ups and downs of poker never cease to amaze me. Earlier this week I played a $65 Mid-States Poker Tour qualifier, and after I quickly busted my first bullet, I reentered only to lose again. Stuck $130, I decided to sit down in a $1/$2 no-limit hold'em cash game by buying in for the same amount, hoping a quick double would get me even. Before long, most of those chips — all but $11 worth — had found new homes.
At that point I was playing all-in-or-fold poker, and odds were I was going to be heading home sooner than later. Even so, I kept my composure and waited patiently for a hand. I got it, and with it came the first of many doubles. Within 30 minutes I had worked my stack up to $300, which was more than my original goal.
Even though I was only up $40 on the day, I felt like I'd won a thousand bucks. Anyone who has made an improbable comeback knows what I'm talking about. I was prepared to go home in a bad mood from a bad day of poker, but just like that it all turned around. It was a prime example on why you should never give up and always play your best, no matter how short-stacked you may be.
Another example of poker's highs and lows took place in late August at the final table of the European Poker Tour Barcelona €50,000 Super High Roller, a tournament that attracted 77 entries and created a prize pool of €3,607,155. The field was down to eight players in Level 20 (40,000/80,000/10,000) when, on Hand #36 of the final table, a truly remarkable thing happened.
Here is how the hand played out according to the PokerNews live blog:
Sven Reichardt opened for 160,000 from middle position and Olivier Busquet three-bet all in for 1,545,000 from the button. Reichardt instantly called. Busquet had and was in big trouble against Reichardt's .

Commentators Joe Stapleton and James Hartigan remembered Busquet's eighth-place finish in the EPT Monte Carlo Super High Roller: "History likely to repeat itself, as Reichardt almost flops him dead. Less than one percent equity," they said after the flop gave Reichardt a full house.

Scott Seiver wasn't convinced of Busquet's nearing bustout though, and talked about the option of getting runner-runner eights. "Or ace-ace," he added after the hit the turn.

It was still a long shot for Busquet, but he did have a chance. The hit the river and the table and commentators were in shock, though some acted like they had seen it many times before. With their online backgrounds, they most likely have.
Granted, Busquet wasn't extremely short-stacked like in my example, but he had clearly gotten himself into a precarious situation, one that took a poker miracle to get out of. Before the hand began, Busquet was one of the two short stacks in an absolutely loaded field. He could have easily played passively and tried to ladder up the payouts, but he was clearly there to win as evidenced by his three-bet shove with ace-deuce.
According to the PokerNews Odds Calculator, the flop made Reichardt a massive 99.60% favorite, meaning Busquet would win just 0.4% of the time. He needed exactly either running aces or eights, and he somehow got the former. In all my years of reporting poker, I'd only seen it happen once before. Hitting such a runout is a remarkably rare thing.
Amazingly Busquet, who only fired one bullet in the unlimited reentry event, used the momentum from that hand to earn the second live tournament victory of his career and the €896,434 first-place prize. What's more, he did so by defeating his good friend Daniel Colman in heads-up play. Of course Colman was coming off his win in the 2014 World Series of Poker Big One for One Drop for $15,306,668, and he followed up his runner-up finish in the EPT SHR by winning the $10 Million Guarantee Seminole Hard Rock Poker Open last night for another $1,446,710.
So what does it all mean? There is clearly a lot of luck involved in poker — just look at the above hand with Busquet. But if you put in your dues (like Busquet has), play the best game you can at all times (like Colman has done throughout 2014), and refuse to give up (like I did in my meager $1/$2 NLHE game), good things will happen.
Of course the good things don't happen all the time. More times than not Busquet goes bust and I lose my last $11. But by doing those three aforementioned things on a consistent basis, every once in awhile the stars will align.
Follow Chad's personal and poker endeavors on his PokerNews blog, My Way or the Holloway. And for all the latest here at Learn.PokerNews, follow us on Twitter @LearnPokerNews! Find us as well on both Facebook and Google+!