Establishing Poker Priorities and Conquering FOMO

Chad Holloway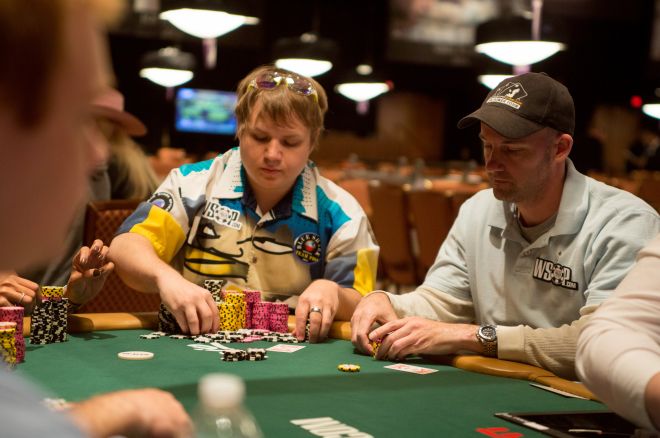 My life is pretty much 24/7 poker. As a Senior News Editor for PokerNews, I write articles daily and spend about half the year on the road. When I'm not busy with my job duties, I can usually be found on the felt playing a tournament or cash game. My devotion to poker has been rewarding both financially and personally, but it has not been without consequence.
One thing that's entered my life is poker FOMO, or "Fear Of Missing Out." As the Urban Dictionary puts it, FOMO is "the fear that if you miss a party or event you will miss out on something great." In my case it isn't a party, but rather a cash game or tournament that I fear missing. In the back of my mind I always feel the world will end if I'm not playing in the biggest game or getting into a prestigious tournament. It seems silly writing it, but it's true.
This poker FOMO has caused my personal relationships, long-term projects, and health all to suffer. I still have a passion for poker, but I've grown uncomfortable with the negligence it's inspired in my life. As such, I have decided to prioritize better and conquer FOMO in the hopes of finding a more fulfilling existence.
Over the next three months, I want to see what I can accomplish before the start of the World Series of Poker. I will be attempting the following:
Take Control of When and Where I Play Poker
I actually don't play a lot of poker, but when I do I've been uninspired. I've basically been playing on cruise control with no clear focus or goal. I guess I got a little lazy after the bracelet win, and I hope to remedy this by taking things more seriously.
Instead of playing whenever I have free time, I'm going to plan things out a little more. This should help inject some structure and discipline into my game, while at the same time give me something to look forward to. Here's my current plan for between now and the WSOP:
Local $60 buy-in tournament on Thursday nights
$350 buy-in Spring Fling tournament at Potawatomi Casino on Sunday, March 9
$1,100 Mid-States Poker Tour (MSPT) tournament at the Meskwaki Casino in Tama, Iowa April 4-6
MSPT $65 Satellites at local casino on March 4, 8 & 11
$2-$5 pot-limit Omaha game on Tuesday & Friday nights
2014 WSOP Event #1: $500 Casino Employees — attempting a title defense!
Regarding the aforementioned PLO cash game, well, let's just say that game has been my Achilles' heel. It plays big, and my swings are just that. Admittedly, I fail to practice sound bankroll management in this game, but that's going to change moving forward. As I follow this schedule, I also intend to plan, practice, and study my game.
Regain My Health
I've actually taken some positive steps in this direction already. In fact, I've set a personal goal of losing a certain amount of weight before the start of the WSOP. I won't go into details, but let's just say I have put my money where my mouth is and hired a personal trainer. I don't like wasting money, so I've been taking advantage of his services the best that I can. With some dedication and a little luck, I hope to adopt a new and healthier lifestyle.
As it relates to poker, I have made it a rule that I must get a workout in before playing poker. Exercising makes me feel better both physically and mentally, and both will contribute to my success as a poker player. For me, the two go hand in hand so there's no point doing one without the other as it'd only be detrimental. From here on out I intend to live a more healthy life and allow the benefits of doing to strengthen my game.
Devote More Time to Projects
I have a pile of items that need to be sold on eBay, my kitchen has been in the process of being "remodeled" for years, and I have a comic book venture that has been sitting on the shelf. These are just a few of the projects I have ignored and would like complete. It's hard to do those, however, when each will take its fair share of time and I'm usually preoccupied at the poker tables.
Completing these projects would be extremely fulfilling on a personal level, but for far too long I've used the excuse of time, or lack thereof, for putting them off. Well, now that I've laid out my poker plans, I see no reason why I can't complete all of these projects and more on days free of poker.
No Longer Neglect Personal Relationships
I can't tell you how many times I've turned down dinner or going to a movie just so I could play poker. Poker FOMO inspired me to prioritize the game over friendships and being socially active. Upon reflection, I find that extremely shameful and inexcusable.
Poker is a social game, but I no longer want it to be my sole outlet. I desire to spend more time with my friends and family while taking a genuine interest in their lives. Poker is great, but it alone cannot fulfill me. It's time to inject some more meaningful things into my life.
Some of these things may sound surprisingly simple, but for me they'll add up to a challenge. It's ironic — I know sacrificing a little poker to accomplish these things will make me a more confident and controlled player in the future, but it's still so hard to do. Fortunately all of these things are within my control, so it's simply a case of mind over matter. I guess we'll see how I do in this test of my mental fortitude.
Follow Chad's personal and poker endeavors on his PokerNews blog, My Way or the Holloway. And for all the latest here at Learn.PokerNews, follow us on Twitter @LearnPokerNews! Find us as well on both Facebook and Google+!