Going Card Dead: A Slow Slide in the MSPT Majestic Star Main Event

Chad Holloway
On Friday, August 1, I drove four hours to the far side of Chicago to play in the Mid-States Poker Tour Majestic Star $1,100 Main Event. It was the first opportunity I've had to play since the 2014 World Series of Poker went on hiatus, and I was quite excited to compete against some accomplished competition that included online stud Brandon "oncommand" Meyers and WSOP Circuit ring winner Zal Irani.
The MSPT features two starting flights with a reentry option, so I was prepared to fire two bullets in the event if need be. Fortunately I only needed one thanks to a strong start on Day 1a when I quickly worked my starting stack of 20,000 up to 45,000. That is when I became involved in a big hand in Level 6 (200/400/50) against Irani.
As I recall, someone had raised to 900 preflop and five of us saw a flop of



. I had flatted from the small blind with the


, so I picked up a gutshot straight draw, needing a four to complete it.
Action checked to Irani in late position, and he put out a bet of approximately 2,000. A couple of calls were made, so I decided to gamble a bit and see if I could hit my straight. I figured if a four peeled off on the turn, I'd check and someone was bound to bet. Wouldn't you know it, the dealer burned and turned the beautiful

.
I checked as planned, and when action reached Irani he fired out 6,000. Two players folded in between us, then I moved all in. The big blind folded and Irani called off his remaining 9,000 or so with


for a flopped set. He seemed none too pleased to discover I hit my gutshot. The board failed to pair on the river, and Irani hit the rail while I chipped up to 75,000.
It was a great start, but unfortunately it'd mark my peak in the tournament. Over the next eight levels I was in a holding pattern, and by the end of the night I bagged 61,500, which by that point was well below the average among the advancing 25 players. Still, it felt good to bag, save $1,100, and to have a day off before Day 2 resumed on Sunday.
On Saturday, I headed to the nearby Horseshoe Hammond with Meyers, who also advanced from the Day 1a field, and the two of us played a juicy game of $5-$5 pot-limit Omaha. It proved profitable for me, which gave me some confidence for the next day. I got a good night's sleep and was prepared to spin up my stack on Day 2, which would see a total of 48 players from both Day 1 flights return with 27 getting paid.
They say if you want to hear God laugh tell him your plans, and if that's true the poker gods had a belly buster of a chuckle on Sunday. Day 2 kicked off with Level 15 (1,500/3,000/500), meaning I was sitting on 20 big blinds. That quickly began to dwindle, though, as I went card dead and waited patiently for a playable hand. Before the level went up to 2,000/4,000/500, I was down to 40,000, and the best hand I'd seen up to that point was


-offsuit, which I had to fold to a raise and a three-bet.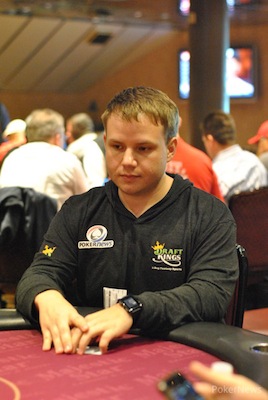 In poker you don't always need cards to make a move, you just need the right spot — but no good spot had really presented itself to me either. Most of the time a player had opened and another three-bet before it got to me, meaning the chances of a four-bet bluff succeeding, especially with my paltry stack, were slim. My options were limited, and more times than not my opponents handcuffed me. I decided to sit tight and continue to play the waiting game, though that didn't pan out.
In what would be my final hand, which happened in the last minute of the level, I was in the big blind and action folded to my opponent in the small blind. Given my stack, I was expecting him to raise with any two cards, and sure enough he moved all in. I looked down at an ace, and I knew this would probably be the hand. I squeezed out the other card to reveal a seven. Not what I was hoping for, but


was easily the best hand I'd seen in an hour (that's sad, I know).
Knowing my opponent's range was huge, I figured there was a good chance my ace was ahead so I called off, putting my life at risk for the first time all tournament.
My ace wasn't good. My opponent tabled


, and I was pipped. The flop contained an ace, but an eight on the turn proved the final nail in my coffin. I wished the table luck and then bowed out empty-handed in 37th place. It was extremely frustrating.
There are few things worse than feeling helpless, and that's how I felt after going card dead on Day 2. Could I have done something differently? Of course, but given the circumstances I'm positive it would have led to an even earlier exit. The lesson learned is that patience usually pays in poker, but sometimes it leaves you waiting for a ship that won't come in.
Lead photo: Benjamin Lim. Creative Commons Attribution ShareAlike 2.0 Generic.
Follow Chad's personal and poker endeavors on his PokerNews blog, My Way or the Holloway. And for all the latest here at Learn.PokerNews, follow us on Twitter @LearnPokerNews! Find us as well on both Facebook and Google+!