Play and Learn: Making the Wrong Move at the Right TIme

Chad Holloway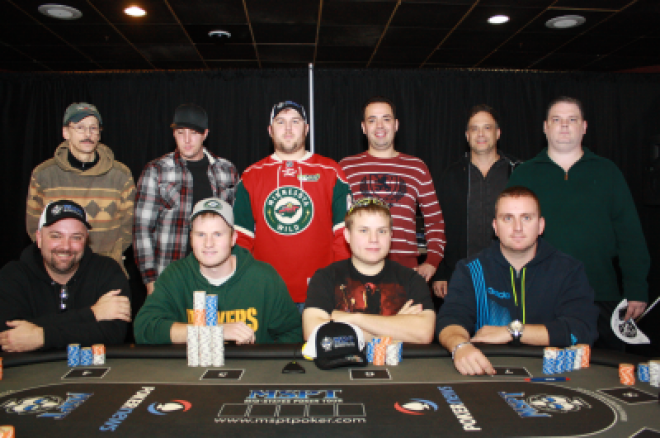 A couple of weeks back, I had the opportunity to play in the PokerNews Mid-States Poker Tour Ho-Chunk Gaming Main Event in Wisconsin Dells, Wisconsin. Twice a year, the MSPT visits my hometown, and without a doubt it's the biggest poker event in Wisconsin. In fact, this year's tournament attracted 305 entries and created a prize pool of $305,000 — the largest in state history.
Long before I was a Senior News Editor for PokerNews, I was cutting my chops at Ho-Chunk, and I know many of the regulars were happy for me when I won a World Series of Poker bracelet this past summer. However, I wanted to show them all it wasn't a fluke, and I knew a good showing in the MSPT would do just that.
The MSPT $1,100 buy-in Main Events feature a re-entry format — you can re-enter once on Day 1a if you bust before the end of Level 4, and you can also re-enter on Day 1b if you don't survive the first Day 1 flight. The last time the MSPT was in town, I'm ashamed to say I fired three bullets and missed. This year my goal was to fire a single bullet, which I actually acquired from a $250 satellite.
Day 1a started off great. I quickly acquired some chips, running my 20,000-chip starting stack up to 75,000, and found myself as the table chip leader for most of the evening. However, things can change quickly in poker as I next found out in a 40-minute span when I went from 75,000 down to 10,000! I was suddenly on elimination's doorstep, which is when my first lucky hand occurred.
It happened at the 600/1,200/100 level when action folded to the button and he limped. I was in the small blind with


, and while I wasn't excited about it, I flatted (meaning I just called the raise). The big blind checked his option and three of us took a flop of



.
I shoved my short stack with an open-ended straight draw, the big blind folded, and the button snap-called with the


for two overcards, a flush draw, and a gutshot straight draw. He was the favorite, but somehow none of the draws were filled and I managed to win with just queen-high!
By the end of the night, I had worked my stack back up to 62,300 and was quite pleased all things considered. While another 150 players or so were taking their shot on Day 1b, I took Saturday off and prepared to return on Sunday for Day 2, which started with 92 players seeking to last into the final 36 and the money.
With around 40 players left, I was moved to a new table, and as I was still unpacking my chips when the action folded to me on the button. By this point I had 90,000 and the blinds were up to 3,000/6,000/500. I looked down at


-offsuit and quickly determined that the two older gentlemen in the blinds were tight and willing to fold their way to the money. I moved all in... and soon I found out I was dead wrong.
The small blind quickly called off his last 60,000 or so. Then Jason Seitz, who had us both covered, snap-called from the big blind. We turned over our cards, and from my seat it didn't look too pretty:
Holloway:



Small Blind:



Seitz:


I had obviously picked the wrong spot, and I began to collect my things to make a somewhat embarrassing exit. Imagine my surprise when the flop fell



to give me the nuts!
Needless to say, the table (myself included) erupted in disbelief. Neither the turn nor river made a difference, and just like that I was sitting with nearly 250,000! As Lancey Howard tells Eric in The Cincinnati Kid, "Gets down to what it's all about, doesn't it? Making the wrong move at the right time." I was extremely lucky, but sometimes that's what it takes to go deep in a tournament.
Go deep I did, too, as before long I found myself at the final table. It was there that I got a bit unlucky. With five players remaining, I moved all in over the top of a raise by Rob WazWaz. A call was made and my


was in great shape against his


. Unfortunately for me, WazWaz found a ten on the flop. I ended up busting in fifth place for $14,718.
Busted in 5th place for $14K or so. My AK<A10 AIPF. Disappointed but what can you do. Very pleased with my play throughout. #FB @msptpoker

— Chad Allan Holloway (@ChadAHolloway)
While elimination is always a tough pill to swallow, I left feeling satisfied. I'd gotten extremely fortunate to get to the final table, so I thought being bitter about my unlucky exit would be a bit hypocritical.
I never thought I'd get to a point where I could accept and appreciate things like that, but doing so has obviously proven to be a big step in my game and has contributed a great deal to my recent success on the felt.
In the end, 22-year old Josh Reichard of Janesville, Wisconsin walked away with the $78,003 first-place prize and the RF Moeller diamond championship bracelet. The win marked Reichard's second MSPT cash — he placed 15th in the very first stop at Ho-Chunk in September of 2012 – and the largest score of his blooming career.
Here's a look at the results from the PokerNews Mid-States Poker Tour Ho-Chunk Gaming Main Event final table (pictured up top):
| Place | Player | Hometown | Prize |
| --- | --- | --- | --- |
| 1st | Joshua Reichard | Beloit, WI | $78,003 |
| 2nd | Mark Borns | Madison, WI | $42,681 |
| 3rd | Miroslav Semanisin | Wisconsin Dells, WI | $28,258 |
| 4th | Robbie WazWaz | Brooklyn Park, MN | $19,133 |
| 5th | Chad Holloway | Reedsburg, WI | $14,718 |
| 6th | John Hayes | St. Paul, MN | $11,774 |
| 7th | Brett Kuznia | Stephen, MN | $10,302 |
| 8th | Brian Smith | Rhinelander, WI | $8,823 |
| 9th | Jason Seitz | Forest Lake, MN | $7,359 |
The next MSPT event will take place in early December at Canterbury Park in Shakopee, Minnesota. For more information on that event, visit msptpoker.com.
Photos courtesy the Mid-States Poker Tour.
For all the latest here at Learn.PokerNews, follow us on Twitter @LearnPokerNews! Find us as well on both Facebook and Google+!