Play and Learn: My First "Win the Button" Tournament

Chad Holloway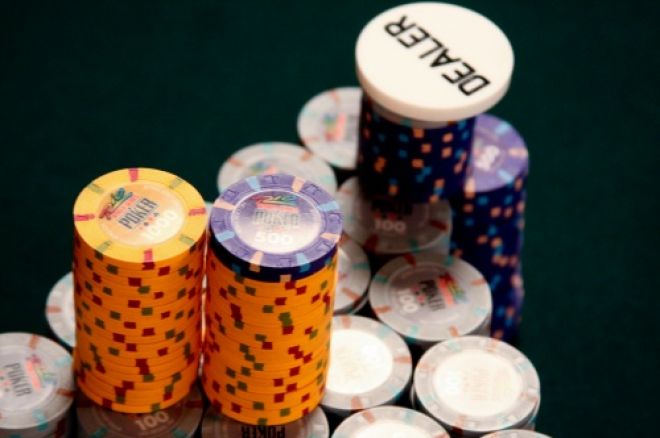 I can think of few things more satisfying than scooping a big pot in poker, but at the United Kingdom and Ireland Poker Tour (UKIPT) stop in London, I discovered one such thing is scooping a big pot that also contains the dealer button. This was a feeling I experienced multiple times in the £110 Win the Button (WTB) tournament, which attracted 158 players and created a prize pool of £15,326.
I was actually in town to live report the European Poker Tour London, but since I arrived a day early, I decided to play my first ever WTB Turbo tournament. The concept is simple — it's exactly the same as a regular no-limit hold'em tournament except whoever wins the pot also wins the button. With the button in place, a new hand is dealt and play continues. It's a small difference, but as I quickly learned it was one of supreme importance when it came to strategy.
I love playing new forms of poker. Having logged thousands of hours playing hold'em and pot-limit Omaha, I feel challenged and more engaged when tackling a new game variant. Straight out of the gate I was intensely focused on trying to pick up the nuances of the game and formulate an effective strategy. Here are a few examples:
Knowing your opponents, especially the two to your right, is incredibly important. Every time they win a hand you'll be placed in a blind, and in a turbo that can quickly whittle away your stack. You want tight players to your right, but if you get some aggressive players that win a lot of pots, you'd better be ready to play back at them.
It goes without saying that you should always be aware of what's going on, but this is especially true in a WTB tournament. For instance, there were numerous occasions when action folded to me and I had a mediocre hand like . My initial thought was to raise, but I paused and thought about it. The two players in the blinds (who had big stacks at this point) were at the other end of the table and the two players to my right had already folded. That meant I was guaranteed not to be a blind in the next hand. By folding I preserve my chips and ensure someone at the other end of the table wins the button. This was doubly sweet when I'd fold, an aggressive player would win, and one of the short stacks would be hit with the big blind. Little details like that influenced my decision making process greatly.
You can't take a bathroom break during play. Well, technically you could by missing a few hands and going. I usually do this in a normal tournament when the blinds pass me, but in a WTB tournament you never know who'll be the blind next. That means you not only have to be ready to play from any position on any given hand, but you've also got to have a strong bladder!
I was fortunate to pick up some big hands throughout the tournament, and before long I found myself in the money and at the final two tables. Unfortunately I ended up busting in 11th place for £300. That wasn't quite the £3,560 first-place prize I was hoping for, but it was a nice start to the trip nonetheless. (Plus I got an England flag on Hendon Mob!)
Here's a look at the results from the aforementioned tournament:
UKIPT London Win the Button Turbo Final Table Results
| Buy-in | Entrants | Prize Pool |
| --- | --- | --- |
| £100+£10 | 158 | £15,326 |
| Place | Player | Prize |
| --- | --- | --- |
| 1st | Dave Barnes | £3,560 |
| 2nd | Colin Marks | £2,410 |
| 3rd | Edvinas Gruzdas | £1,610 |
| 4th | Manuel Miranda | £1,315 |
| 5th | Joshua Simring | £1,055 |
| 6th | Raj Ramakrishnan | £815 |
| 7th | David Lappin | £606 |
| 8th | Radu Catoiu | £445 |
The point of this piece is to encourage you to take a chance on a game you may have never played. When you do, focus, observe and learn. Do this and your development as a poker player will advance at a much faster pace than will happen if you play the same game over and over again.
For all the latest here at Learn.PokerNews, follow us on Twitter @LearnPokerNews! Find us as well on both Facebook and Google+!