My Poker Goals for 2014

Chad Holloway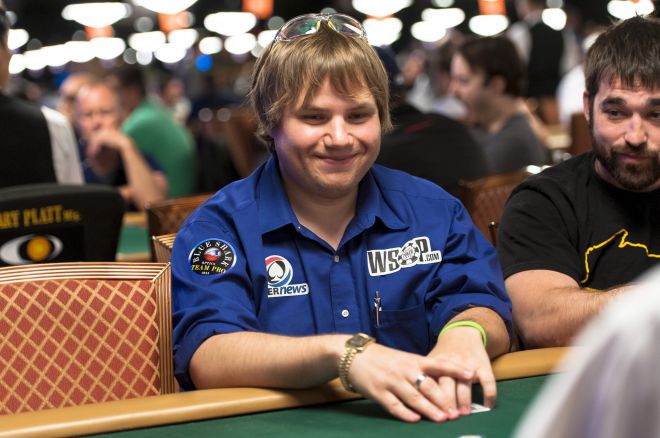 The New Year is here, and I for one am sad to see 2013 fade into history. It proved to be a satisfying year for me both personally and professionally thanks to winning a World Series of Poker bracelet, boosting my bankroll with some big scores, and visiting cool people and places across the globe. Alas, as one year comes to a close it's time to look forward to the next with some New Year's resolutions.
Perhaps resolution isn't what I mean. Instead let's call them goals.
Daniel Negreanu, who is coming off one of the best years of his career, is fond of reviewing past goals and setting new ones whenever one year ends and another begins. He recently did just that on his site Full Contact Poker, which you can read by clicking here.
Negreanu set some lofty goals for himself — e.g., winning three WSOP bracelets — but then again he has the bankroll to make it happen. For players like you and I, winning three bracelets is unlikely considering we might not be playing more than one or two tournaments come WSOP time. Even so, we shouldn't become discouraged, and by no means should others' ambitious goals keep us from setting some realistic ones for ourselves.
For me there are two types of goals -- those that are attainable as long as we put in the work (e.g., to play 30 tournaments or 100 hours of cash games), and those we can set but require a little but of luck to accomplish (e.g., winning a bracelet). I think it's essential when setting goals for yourself to include both ones you know you can realize with enough effort and more high-reaching ones to shoot for, too.
Inspired by Negreanu, here are a few 2014 poker-related goals have set for myself:
1. Practice Bankroll Management
I don't play poker as much as I used to considering I work full time for PokerNews. When I do, I tend to gravitate to a $2-$5 pot-limit Omaha game that plays fairly big. Winning and losing $2,000 is not uncommon, and while the former is great, the latter wrecks havoc on my bankroll.
My big problem in the game is I tend to reload too many times. Losing a buy-in is something my bankroll can absorb, but losing 3-4 buy-ins is not. My first goal is to find the restraint required to preserve my bankroll by practicing sound management. (For more on bankroll management, see Matthew Pitt's recent series on the subject.)
2. Earn Two Hendon Mob Flags
Whenever you cash in a poker tournament, Hendon Mob tracks it and includes a little flag for the country in which it occurred. I don't know why, but I get a kick out of having some of these (Italy, England, International) on my profile. This year I hope to play a little during my travels and add some more flags to the list.
3. No Partying the Night Before an Event
This is straight up lifted from Negreanu's list. He successfully did it in 2013, and look at the year he had. If not drinking the night before an event can help me succeed, I'm willing to implement it into my regime.
4. Visit Atlantic City and Set Up an Online Poker Account
I've been in the poker world for a while now, but believe it or not I've never been to Atlantic City. When it comes to poker, AC is a hotspot, which is especially true considering New Jersey recently legalized online gaming. In 2014 I hope to visit and play in AC, and also get back in the online action by opening an account (most likely with PartyPoker).
5. Play in My First World Poker Tour Event
I almost accomplished this in 2013 at the WPT Caribbean, but flight delays out of Chicago resulted in a cancelled trip. I'm not sure when or which event I'll play, but I'm making it a point to do so in 2014. Maybe I'll play one in AC and kill two birds with one stone.
6. Win a WSOP Circuit Gold Ring or WSOP Bracelet
This one will be tough to accomplish. I'll likely play eight or so WSOP Circuit tournaments in 2014, so winning one will be tough. Likewise, if I get the chance to play three WSOP events over the summer I'll be lucky, so the odds of winning my second bracelet are even lower. Nonetheless, I'll give it all I have and hope lady luck smiles upon me.
Reviewing goals is a cathartic experience, and setting new ones can help guide you in the year to come. I encourage you to come up with some goals of your own, put them down in writing, and then share them with the world so you'll feel obligated to pursue them. Remember, set some goals that are manageable, but don't forget to shoot for the stars and set one or two that require a little bit of good fortune to accomplish as well.
Do you have any poker goals for 2014? If so, let us know what they might be in the comments section below.
For all the latest here at Learn.PokerNews, follow us on Twitter @LearnPokerNews! Find us as well on both Facebook and Google+!