Sick Cooler at the Hollywood Poker Open

Chad Holloway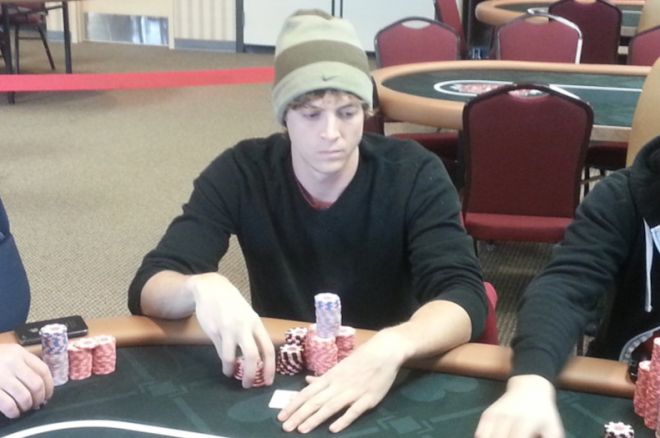 As a PokerNews tournament reporter, I've covered hundreds of events throughout the years. I've seen pretty much every bad beat in the book, but occasionally I witness a hand that leaves even me in disbelief. Usually it's not the hand itself that's sick, but the circumstances in which it plays out. One such hand occurred at the 2014 Hollywood Poker Open Grantville Regional Championship recently in the $1,800 buy-in Main Event at Penn National Race Course.
The tournament attracted a modest 37 players, of which only nine advanced to Day 2. What's more, just five of them were slated to get paid. Bradley Yazici began the day as chip leader with 170,400, while Jason Thomas (pictured at right) wasn't too far behind with 156,100. Only one other player had over 100,000, and two actually had less than 20,000.
With action resuming in Level 13 (700/1,400/100), it's safe to assume that both Yazici and Thomas could have coasted to the money, but that's not how things played out. Instead, a massive cooler involving the two chip leaders played out just a few minutes after action resumed.
The hand began with Thomas opening for 3,200 only to have Yazici three-bet to 7,500. Action folded back to Thomas, and he pushed back with a four-bet to 16,000. Not to be outdone, Yazici five-bet to 35,000, then Thomas six-bet to 60,000. Yazici then seven-bet shoved, and Thomas called.
Yazici:



Thomas:

Fittingly it was the two biggest hands in poker that inspired such fierce action. Unfortunately for Yazici, who had his opponent covered by a mere 5,400, it looked as if he'd go from the chip leader to the extreme short stack.
According to the PokerNews Odds Calculator, that's what would happen 82.36% of the time, though Yazici did have a 17.09% of catching a king. The



flop wasn't particularly interesting, and Thomas became a 91.62% favorite.
That is when disaster struck for Thomas. The dealer burned and turned the

to give Yazici the improbable set.
Thomas was visibly shaken as he went from an overwhelming favorite to being one card away from hitting the rail. The rest of the players, as well as the spectators, were shocked by the sudden turn of events, and everyone watched as the dealer burned one last time and put out the river

. Thomas failed to recapture the lead in the hand and stood helplessly as the dealer verified the stacks.
Once it was official, a shell-shocked Thomas collected his things and made his way to the exit empty-handed. Meanwhile Yazici counted his blessings and stacked nearly half the chips in play. A few hours later, Yazici captured the title and the $22,752 first-place prize.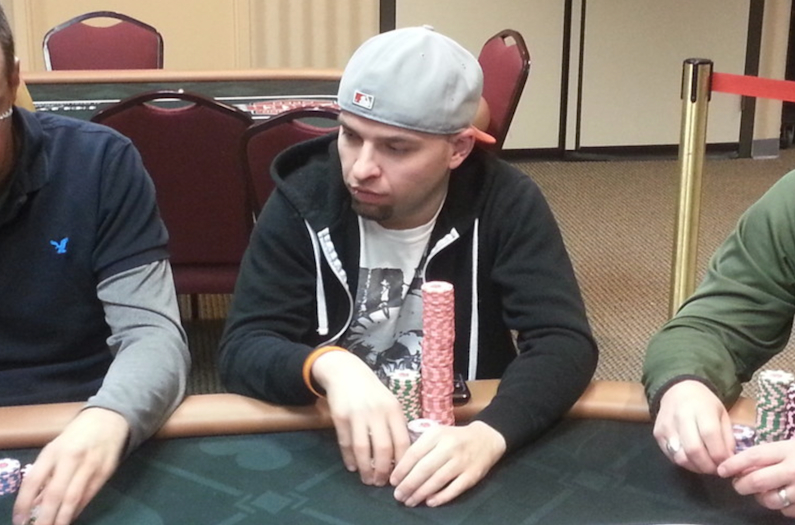 Without a doubt that was the hand of the tournament. Thomas certainly began the day with high hopes of earning a five-figure score, and I'm sure he never imagined that within five minutes he'd be the first player on the rail having missed the cash entirely. (Read a full recap of the event here.)
So why was this hand to unique and gut wrenching? I think it's because of the various factors:
It took place between the two big stacks
It featured the two biggest hands in poker
It happened at the final table with money on the line
It involved a dramatic suck out on the turn
It was extremely emotional with Thomas crushed, Yazici happy, and the short stacks thrilled to be one step closer to a cash
If you removed or changed just one of these elements, it wouldn't have been as memorable. Instead, it was a deadly recipe designed for fireworks. Even if the chips didn't go in preflop, they probably would have on the low flop, making the eventual outcome essentially unavoidable.
The point I'm trying to make is that there really wasn't anything Thomas could have done differently. He always gets his chips in with pocket aces, but this time — when it truly counted — he got unlucky. It's a tough pill to swallow, but that's poker.
Follow Chad's personal and poker endeavors on his PokerNews blog, My Way or the Holloway. And for all the latest here at Learn.PokerNews, follow us on Twitter @LearnPokerNews! Find us as well on both Facebook and Google+!