Toy Drive Tourney Gives Players Chance to Give… and Learn

Jonathan Zaun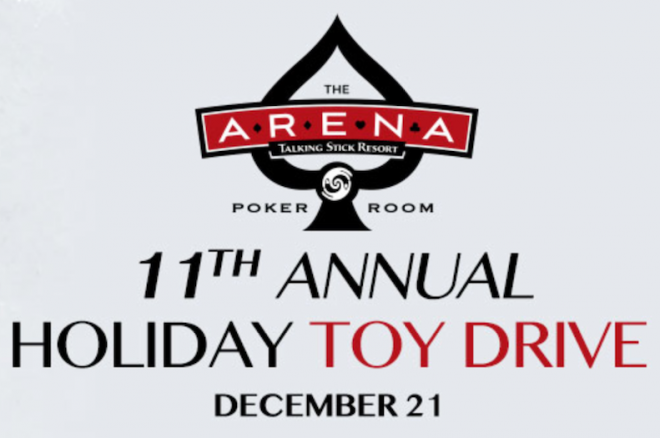 Poker has always been predicated on taking from another to improve your own lot, and while that element of competition is essential to the game, a recent tournament I played in demonstrated that poker players still love to give when the cause is worthy. It was the 11th Annual Toy Drive Tournament at the Talking Stick Resort in Scottsdale, Arizona that played out last Saturday, a great holiday tradition that sees hundreds of poker players show up every year to support regional Toys for Tots organizations.
'Tis the Season
The set-up is simple: In exchange for one new toy valued at $10 or more along with a $25 service fee, players received a seat in a no-limit hold'em tournament with a $12,500 guaranteed prize pool. Although the Talking Stick Resort advertised a limit of 400 entrants to this year's Toy Drive Tourney, 90 players were still left in line as the cutoff was reached, so the casino's dedicated staff made sure to accommodate every last alternate in attendance.
The vibe in the room was a bit different than the normal poker playing atmosphere. Rather than grim faces and gruff gambling talk, the field was abuzz with excitement and a sense of collective satisfaction over having supported a worthy cause. The pile of toys arranged near the poker board continued to grow higher by the buy-in, and everybody who made a contribution considered the rest of the day to be the ultimate freeroll.
After adding my miniature skateboard with super cool flame decals to the growing pile of donated toys, I took my seat just before noon, hoping to reach the final table for the second time in four years. Having already participated in this charity event before — and many other similarly-structured events — I knew what to expect in terms of stack size and blind structure, but for new players it is important to keep a few things in mind when playing charity tournaments.
Some Structure Study
First, be mindful of the accelerated structure and pace of these tournaments, because although the casinos can be quite charitable during the holiday season, their generosity usually doesn't extend to devoting too much time and resources to staging such charity events.
With 490 players taking part, the TSR was forced to allocate 49 dealers (at least initially) to the Toy Drive Tournament. Simple economics dictates that the casino would prefer to have these employees dealing raked hands in cash games rather than tournament hands paid for with a one-time service fee, and thus the blinds were scheduled to increase every 20 minutes.
Every tournament offers an individual blind structure, with levels sometimes lasting a little as 15 minutes on up to 60 minutes or even more. Typically a larger buy-in equates to longer levels, so when you sit down to play a freeroll or reduced buy-in charity tournament, don't be surprised to discover the pace to be accelerated throughout the event. In all actuality, 20-minute levels still can offer a sufficient amount of time to play quality poker, at least during the initial 4-6 levels of a tourney. But as I discovered shortly after the first break on Saturday, every level counts.
Players began the Toy Drive Tourney with 3,000 chips at the 25/50 level, with blinds increasing according to the following schedule: 50/100, 100/200, 150/300, and 200/400 before the first break.
One of the key factors to monitor during a tournament is your chip stack's relationship to the size of the big blind. Through the first level of play in this event, a starting stack of 3,000 equated to 60 big blinds (BB), followed by 30 BBs in the second level, 15 BBs in the third, and so on. Although stack sizes of this depth would be considered to be quite shallow when compared to major Las Vegas tournaments, for a charity event in Scottsdale the structure was not too quick… or so it appeared.
Charity Is a Virtue, But in a Charity Tourney Patience Is Not
Just before departing for the first break of the day, dealers around the room asked players to turn in their green T25 chips to be colored up. This meant that the next level according to the previously established pattern — 250/500 — would be skipped over, as making blind bets in increments of 50 was now impossible. This is a typical jump in nearly all tournaments, so I was not surprised to begin play after the break with 300/600 blinds.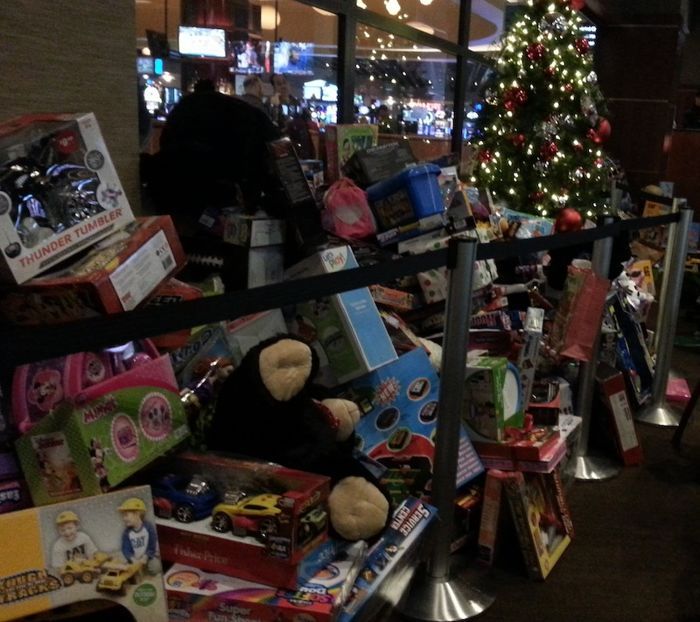 I had managed to build my stack up to about 12,000 by that point, and I held more chips than all but one of my opponents at the table. However, a bit of basic math still suggested that I must keep active in order to survive. With just 20 big blinds to work with (my 12,000 stack divided by the 600 big blind equals 20), my stack was actually less powerful now than before despite having quadrupled my starting stack.
A big part of tournament success is being able to adjust between different strategies when playing with a "deep" stack (of, say, 30 big blinds or more), a "short" stack (of, say, 10 big blinds or less), and stacks in between. In fact, for beginners to tournament poker, there are few better venues to learn about playing stacks of different depths than in a fast-paced charity tournament.
Having a stack 20 big blinds deep meant I was still in a relatively comfortable situation when it came to making opening raises and playing after the flop. However, a more pressing concern was flashing in bright white numbers overhead. The tournament screen stated that the next blind level would be 500/1,000 — passing right over the 400/800 level which in most tourneys with less rapid structures would have come next. Then it would be leapfrogging to 700/1,500.
In other words, I knew that if I didn't add more chips during the 300/600 level I'd soon be dipping down into "short-stacked" status where I'd likely have to go all in or fold before the flop. In fact, if I had the same stack of 12,000 to start the very next level, I'd instantly be down from 20 to just 12 big blinds!
He Who Hesitates Is Back at the Mall Doing Some Last-Minute Shopping
For the next 20 minutes, then, I worked feverishly to outrace the blinds, ramping up the aggression and targeting unsophisticated players who weren't as aware of the situation. While they clung stubbornly to stacks of 6,000 chips (10 big blinds) — stacks that were doubled from the start and represented progress in their minds — I applied maximum pressure to push them out of pots while claiming uncontested chips.
Sure enough, when the next blind level arrived on schedule, I had moved my stack from 12,000 to 23,000 without putting myself at risk of elimination. Meanwhile, those who had folded through the level and preserved their stacks of 6,000 were suddenly in the danger zone.
With the unrelenting nature of this event's blind structure, however, my big gains only forestalled the inevitable. With the new blind increase I was essentially back to where I was before with a stack of just a little over 20 big blinds. My second blitzkrieg against the blinds was less successful, and I eventually bowed out in 74th place to fall just short of a min-cash.
However, by knowing how to maneuver within the confined structure of a charity tournament, I gave myself a better chance to succeed on a day defined by giving.
For all the latest here at Learn.PokerNews, follow us on Twitter @LearnPokerNews! Find us as well on both Facebook and Google+!