What Would You Do on the Bubble of the November Nine?

Chad Holloway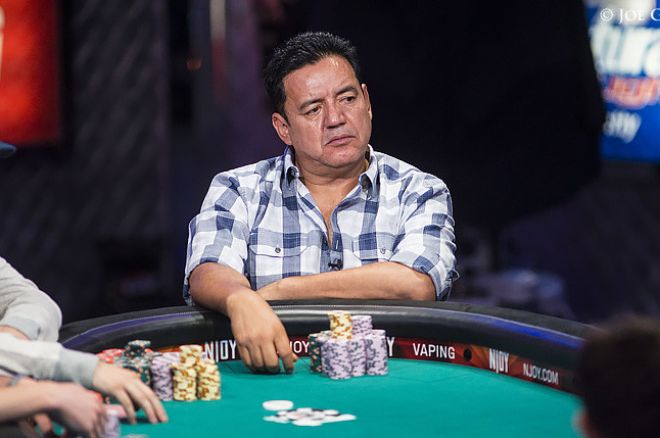 Upon the completion of the 2014 World Series of Poker — and by that I mean reaching the November Nine hiatus — I had the opportunity to be on a local Las Vegas radio show devoted to poker. One of the topics talked about was the Main Event and the playing down to the nine-handed table, in particular the very last hand of the summer that saw Luis Velador (pictured at right) bust out in 10th place to miss the final table.
Since 2008, the November Nine bubble has been regarded as the most intense of the year, due in no small part to the exposure and sponsorship opportunities associated with making the final table of the WSOP Main Event. In 2014, it also meant the difference between $565,193 in prize money and a guaranteed $730,725 payday with a shot at the $10 million first-place prize.
I was at the Rio All-Suite Casino during the unofficial final table, and much to my surprise it took just 24 hands of ten-handed action for the bubble to burst. It happened in Level 35 (200,000/400,000/50,000) when Bruno Politano of Brazil opened for 900,000 in middle position and Mark Newhouse, who was seeking back-to-back November Nine appearances, called from the button. That's when Velador — the last bracelet winner in the field — jammed for 6.15 million from the small blind.
Politano tanked for approximately two minutes before folding what he later claimed was pocket tens, and then Newhouse thought for a fair share of time as well before making the call. The pair then tabled their hands:
Newhouse:



Velador:


According to the PokerNews Odds Calculator, Newhouse was a 4-to-1 favorite to win the hand, and indeed he scored the knockout after the board ran out a dry




. Velador, a two-time bracelet winner who has been playing professionally since 1997, exited in 10th place while the remaining nine players celebrated making the most prestigious final table in poker.
The hand played out in a curious manner, and I thought I'd offer my take on what went down, as well as what I'd have done had it been me.
Assuming Politano really did have pocket tens, I like his open to 900,000 from middle position. It was a little over a min-raise, which seemed to be the standard at that point in the tournament. Newhouse was sitting sixth in chips with 18.35 million at the time, so he could afford to call from the button, though doing so looked weak in my opinion.
That apparent weakness no doubt inspired the short-stacked Velador to move all in with his small pocket pair, something he probably wouldn't have done had Newhouse three-bet from the button. A veteran of the game, Velador knew the gravity of the situation and realized there was probably no better spot than the final table bubble to get maximum fold equity. If he managed to push both his opponents off their hands, he'd effectively increase his stack by 25%.
Sure enough, Velador's strategy worked on Politano, who would have had to commit half his stack to make the call. It was a tough spot for the Brazilian as he was stuck in the middle of two experienced players and was desperately trying to make the November Nine himself in front of his boisterous rail. He had to know Newhouse's call was weak and that Velador's shoving range was large, but he opted to play it safe and fold his hand.
I can't fault Politano for doing so. If I were in his spot, I would assume that, at best, I was up against two overcards, and I wouldn't be keen to race for half my chips. Instead, I could fold, hope Newhouse called, and possibly make the November Nine without getting involved further. Of course if I knew I had the best hand I'd have snap-called, and I'm sure Politano would have, too, but obviously it was impossible to know that.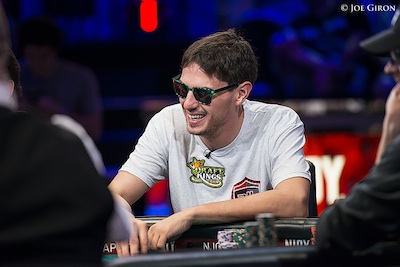 Newhouse did end up calling, and fortunately for him he was a massive favorite. I say fortunately because that was the best possible situation he could find himself in with his pocket fives. Most of the time he'd be racing against two big cards, and oftentimes a bigger pocket pair would dominate him. This time, though, Velador had one of the three smaller pairs he wanted to see.
I don't think I'd have called Velador's shove in Newhouse's spot — again, I wouldn't be keen on risking a third of my chips on what I would assume was going to be a race situation. But I don't fault his play, either. Newhouse had a lot on the line as he was looking to make history by becoming the first player to make two November Nines, in back-to-back years nonetheless. He had a chance and he took it, and you have to respect that.
If Newhouse eliminated Velador, which he ultimately did, he'd be a hero and make the final table third in chips. Meanwhile if he didn't, chances are he would have still made final table as a short stack, much like he did in 2013 when advanced eighth in chips. It helps when you've been there before, and I think that experience gave Newhouse the mettle to call in that fateful hand. He wanted to put himself in a position to win it, and he was clearly willing to flip for it. Fortunately, he didn't have to as his hand proved a massive favorite.
It's hard to imagine the pressure associated with the November Nine bubble, and that last hand could have went down many ways. The way it went saw Newhouse emerge as the victor, and now he finds himself in a great spot to improve upon last year's ninth-place finish and possibly become the next WSOP World Champion.
Follow Chad's personal and poker endeavors on his PokerNews blog, My Way or the Holloway. And for all the latest here at Learn.PokerNews, follow us on Twitter @LearnPokerNews! Find us as well on both Facebook and Google+!